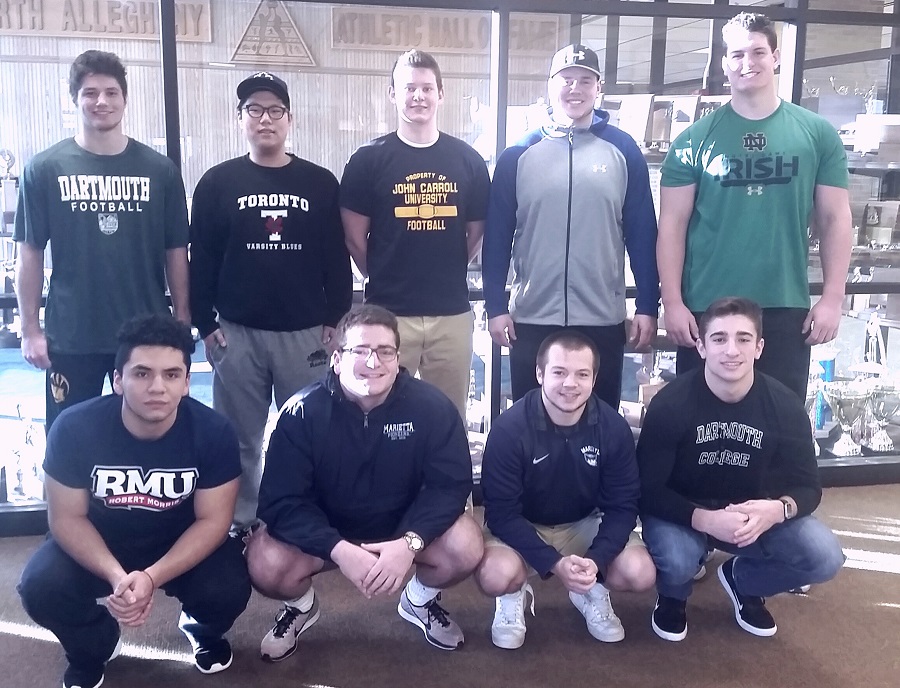 10 NA Seniors Preparing For College Football
After successful tenures as members of the North Allegheny football team, 10 seniors are going to continue their playing career at the collegiate level. Those seniors are Ethan Maenza (Dartmouth), Namgyu Kang (University of Toronto), Matt Binz (John Carroll), Griffin Sestili (Temple), Josh Lugg (Notre Dame), Carlos Blanco (Robert Morris), Caleb Karsh (Marietta), Michael Pope (Marietta), Niko Mermigas (Dartmouth) and J.Q. Littlejohn (Hudson Valley Community College.)
Proving to be one of the most dangerous players in the WPIAL, Maenza finished with over 1,000 yards rushing and passing last fall and was named the Pittsburgh Post-Gazette 6A Player of the Year, among many other laurels for the senior quarterback. For his career, Maenza totaled 2,074 yards passing and 2,235 yards rushing and accounted for 49 total touchdowns. Kang was a reliable place kicker for the Tigers and connected on 29 of 31 extra point attempts last season.
Binz, Sestili, Karsh and Lugg controlled the line of scrimmage and plowed open plenty of rushing lanes for Maenza and the NA running backs on the offensive line. Lugg, an all-state selection, participated in the U.S. Army All-American Bowl last January. Binz, Sestili and Lugg bolstered the defensive line as well. Binz was the defensive leader of the group with 42 tackles and 3.5 sacks.
At linebacker, Blanco wreaked havoc on opposing pass pockets and ranked second on the team last season with six sacks. Blanco added 32 tackles, 21 solo stops, averaging 3.2 tackles per game. Littlejohn added depth to the defensive front and hauled down opposing ball carriers 15 times last season.
Pope was the top ground gainer from the running back position last fall, posting 678 yards rushing and eight touchdowns. A big-play threat every time he touched the ball, the speedy Pope averaged 5.3 yards per carry and finished his career with 1,859 yards and 23 rushing scores.
Mermigas was a dual threat who could haul in the deep pass, and equally as effective, burn defenses with his rushing ability on the ground. North Allegheny's leading receiver, Mermigas pulled in 40 passes for 771 yards and six touchdowns, while adding 224 yards rushing and seven touchdowns. Also a lightning bolt on kick returns, Mermigas accounted for 1,400 all-purpose yards in 2016.
Best of luck to our 10 Tigers who will be playing college football next season!
***********
In photo above:
Back Row:  Ethan Maenza [Dartmouth] / Namgyu Kang [Univ. of Toronto] / Matt Binz [John Carroll] / Griffin Sestili [Temple] / Josh Lugg [Notre Dame].
Front Row:  Carlos Blanco [Robert Morris] / Caleb Karsh [Marietta] / Michael Pope [Marietta] / Niko Mermigas [Dartmouth].
Missing From Photo:  JQ Littlejohn [Hudson Valley Community College]