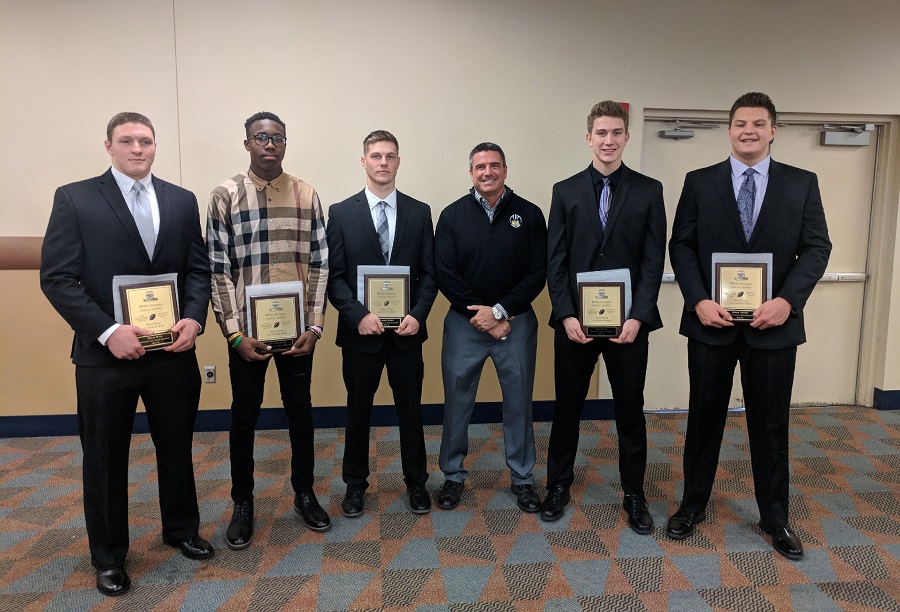 16 Tigers Named All-Conference, 5 First-Team Selections
The Big 56 Conference released its all-conference teams this afternoon and 16 Tigers were recognized as All-Northern Seven Conference performers, including five first-team selections. Senior offensive lineman Derek Devine, senior tight end Sam Humes, senior running back Turner White senior defensive lineman Dylan Wall and junior defensive back Joey Porter Jr. all received first-team laurels.
Devine, a University of Virginia commit, anchored the left tackle position and played a key role on an offensive that averaged 35 points per game. Humes was one of the most versatile players on the team and hauled in eight passes for 166 yards this season. Both Devine and Humes were pivotal in plowing open rushing lanes for White, a Cedarville University baseball recruit, who finished second on the team in rushing yards, racking up 1002 yards and 14 touchdowns.
On defense, Wall proved to be one of the top lineman in the conference and made 23 tackles, five for a loss, and added two sacks. In the defensive backfield, Porter was a ball hawk and reeled in a team-best seven interceptions and added a 75-yard fumble return for a touchdown against Mt. Lebanon in week five.
Receiving second-team honors were senior receiver John Vardzel, senior kicker Dom Falo, senior tight end Brennan McCauley, junior linebacker Dante Caputo and junior linebacker/defensive back Nikko Rankin.
Northern Seven Conference honorable mention picks were senior offensive lineman Ian Truesdell, senior lineman/tight end Canyon Tuman, senior quarterback Luke Trueman, senior fullback Ryan Langdon, senior linebacker Alex Hays and defensive back Corey Melzer.