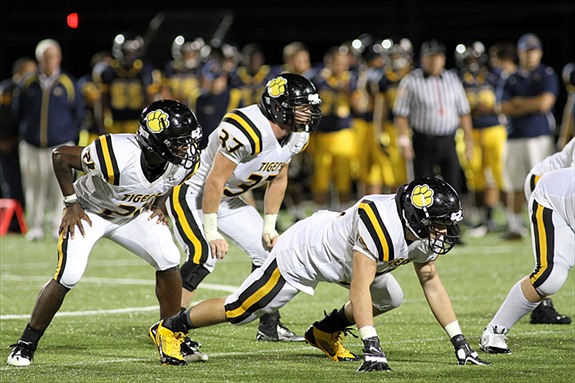 3rd Place In Quad North At Stake In Tonight's Visit To North Hills
With third place in the Northern Eight Conference on the line, the North Allegheny Tigers (5-3) visit the rival North Hills Indians (5-3) tonight at Martorelli Stadium. In a storied rivalry that has seen many significant games played over the years, tonight's contest holds great importance as the winner will likely lay claim to a home game in the opening round of the WPIAL playoffs. In the current Quad-A format, two of the three third place teams will host a First Round playoff game.
Someone who has played and coached in many of the rivalry games between North Allegheny and North Hills, is Indians head coach Pat Carey.  In his first year as successor of long-time head coach Jack McCurry, Carey has led the Indians to a 5-3 record and 4-2 mark in the Quad North. Carey was a standout running back and defensive back on the Indians famed 1987 team that was ranked No. 1 by the USA Today, and has also been assistant coach at North Hills for the last 19 years.  The architect of the Indians defense for many seasons, Carey continues to coach the defense which has always been a strength for North Hills.  This year is no different as the Tribe has allowed just 13 points per game, the second lowest in the conference. Among several contributors, the NH defense is anchored by defensive back Kevin Koch and linebacker Corey Bopp.
On offense, North Hills remains predominantly a running team with Koch and Bopp seeing a lot of time in the backfield at tailback and fullback. Under Coach Carey, the offense has used less misdirection and utilizes a more traditional I-formation. Not to say that the Indians won't throw in a trick play now and then either, especially with talented athletes like quarterback Kindahl Taylor touching the football.  Taylor took over the starting quarterback duties when a week three ankle injury ended the season for junior QB Jake Bruder.  Typically more of a runner than a passer, Taylor is amongst the top rushers on the team, along with Koch and senior Montae Frank.  In a critical 7-0 win over Pine-Richland last week, Taylor did all the damage necessary with his arm, tossing an 80-yard first quarter touchdown pass to junior receiver Brandon Wagner. Wagner and sophomore Shawndale Jones are regulars at the wideout position.
In tonight's game, the line of scrimmage will be paramount. With the Indians propensity to stick to the ground attack, the North Allegheny defense will be challenged to slow them down.  Linemen Zach Koegler, Paul Blendinger, Eric Sprys and others, will look to gang tackle anyone who carries the football in a red jersey.  Leading tackler Layne Skundrich has 72 stops on the season, and is joined at linebacker by Reilly Sullivan and Jason Monper.  In the defensive backfield, ball hawk Elijah Zeise has a team-high four interceptions.  Zeise is paired with Clay Byerly at corner, with Nick Woytowitz and Riley Trueman seeing time at safety. Tonight's game has the makings for a grudge match as the defenses and their ability to create turnovers could be a key factor in who comes out on top.
Plagued by injury throughout much of the season, the North Allegheny offensive backfield seems to getting healthy at the right time.  The Tigers are expected to have a full compliment of running backs tonight with Josh Bergman, Sean Idowu and Isaac Weaver all likely to see carries.  The trio has combined for 854 yards rushing and 11 touchdowns. At quarterback, Jeff Clemens proved his ailing thumb was of no concern last week, completing 8 of 10 passes for 156 yards and four touchdowns in a 56-20 blowout of Shaler.  On the season, Clemens has thrown for 1,151 yards and 13 touchdowns as the junior has become more comfortable in the pocket as the season has progressed.  Zeise has caught 31 passes for 651 yards and seven touchdowns, already besting his 2012 total for receptions. Byerly is another reliable target with 14 receptions for 230 yards and two touchdowns on the year.  Zeise and Byerly are also threats in the return game, combining for three special teams touchdowns.
Playing in a hostile environment at Martorelli Stadium, tonight's week nine match-up between North Allegheny and North Hills will certainly have a playoff atmosphere.  In a snippet of our pre-game conversation with North Allegheny coach Art Walker, Coach Walker talks here about the importance of tonight's game. (The entire pre-game interview with Coach Walker can be heard during the pre-game show on the North Allegheny Sports Network, starting at 7:10 pm.  Click here to listen!)
North Allegheny leads the all-time series with North Hills, 27-26.  The Tigers have won the last two games in the series, trouncing the Indians last season, 42-0, at Newman Stadium.  Kickoff for tonight's game at North Hills is slated for 7:30 pm.