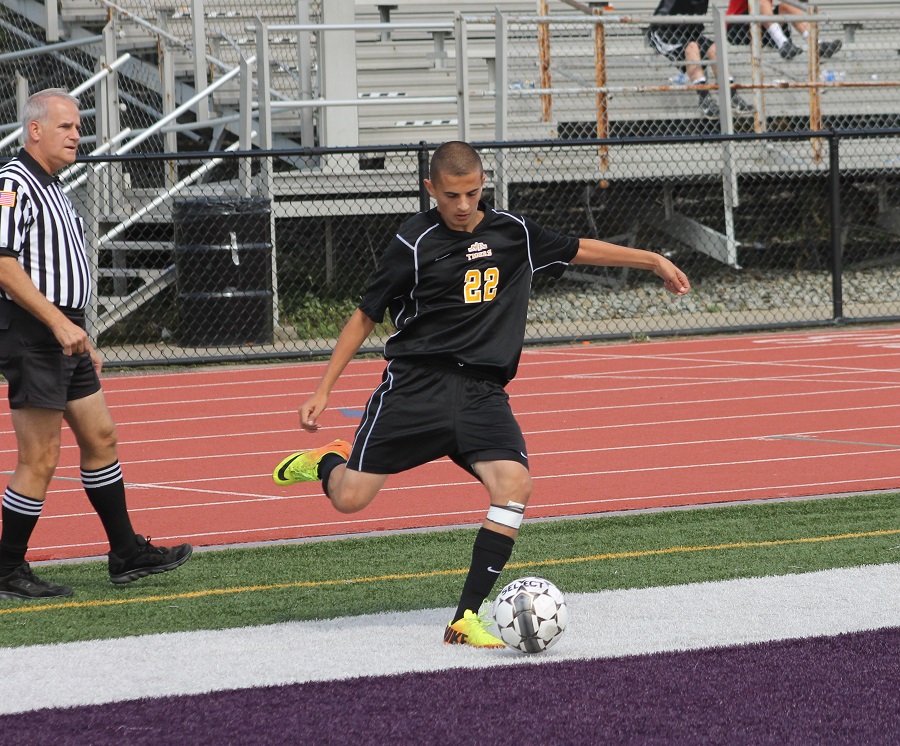 AND THE BEAT GOES ON! TIGERS BEAT BUTLER 2-1
For the second game in a row the Tigers came out flat and couldn't string any passes nor get the ball forward early leading to some early possession by Butler.  At 29:01 a Butler forward put a shot on NA goalie Luke Nolan that was saved, but not cleared by the defense and Jace Stutz from Butler put it past Nolan from 10 yards out giving the Tornado a 1-0 lead.  North Allegheny came back a few minutes later and at the 22:51 mark NA midfielder Jason Earle was fouled and the Tigers were awarded a free kick from 35 yards.  Steve Binning, at the urging of coach Vosmaer from the bench to put it on net did even better, he hit it over the Butler goalie and into the back of the net making the game even at 1-1.  North Allegheny finally started to string some passes together with nice combinations from Binning to Nate Hall to Kevin Dougherty for a shot and then again from Nick Thornton to Jason Earle to Nate Hall, but none of the shots could beat the Butler goalie.  The half ended with both North Allegheny and Butler with 3 shots, but only 2 shots on goal apiece.
The North Allegheny squad was able to regroup at halftime and started to get the ball to forwards Yosef Ulomi and Binning for some initial pressure. Goalie Nolan made a save at 32:57 from close in that gave the Tigers some momentum and at the 24:04 mark. Binning fed Alex Gill down the middle who played a perfect thru ball to Josh Luchini coming down the right side who beat the defense and scored from 15 yards out and gave the Tigers a 2-1 lead.  The next 15 minutes was all North Allegheny as shots towards or on the Tornado net by Kevin Dougherty, Bobby Upton, Michael Peters, Luchini, Adam Maloney, Dillon Thoma kept the pressure on the home team.  Nolan made a save at the 6 minutes from ten yards out and Butler had a few corners in the last five minutes, but the NA defense along with Thornton, Chip Dougherty, Spencer Haestings, Thoma, Maloney, Sean Tao and Gill kept the Butler offense away from the net for a 2-1 Tiger final.
North Allegheny is presently riding an eight game unbeaten streak in Section 2 with a 7-1-1 record in the section, 8-3-1 overall and solidly in second place just behind Seneca Valley. The boys team next plays this Monday September 29th at 7:30pm at home in the Tigers Den in an out of section game versus an undefeated 9-0 Mars team.  The boys thank all the fans that showed Saturday and look forward to a full house to cheer them on Monday.