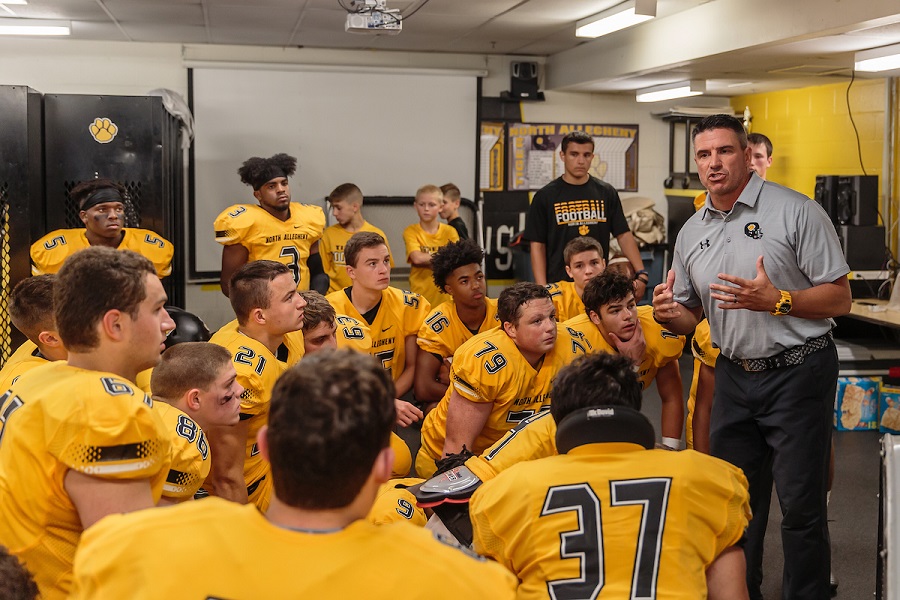 Art Walker Big 56 Class 6A Coach of the Year, 15 Tigers Named All-Conference
Following a 10-1 season and a Quad County Conference championship in Class 6A, the North Allegheny football team had 15 players named to Big 56 Conference all-conference teams. Additionally, head coach Art Walker was recognized as the Class 6A Coach of the Year.
Six Tigers received first-team laurels including senior linemen Jack Graham and Elijah Boyd, senior running back Ben Maenza, senior linebacker Cade Hoke, senior defensive back Joey Porter Jr. and senior punter Isaac West.
Graham and Boyd helped plow open running lanes for Maenza, one of the top rushers in Class 6A, amassing 1,073 yards and 17 rushing touchdowns. Hoke was NA's leading tackler on defense with 86 stops and five sacks. Providing blanket coverage in the secondary, Porter Jr. corralled three interceptions after a seven-interception performance last season as a junior. A player who could tilt the field at any time, West averaged 38.3 yards per punt and pinned opponents inside the 20-yard line eight times on the season.
Second-team honorees included junior running back Percise Colon on offense, and junior Amosis Porter, senior Parker Titsworth and senior Dante Caputo on defense.
Honorable mention picks were junior center Ben Grafton, senior receiver Corey Melzer, junior multi-purpose back Luke Colella, senior defensive tackle Liam Alker-Connelly and senior linebacker Ethan Augustin.
For a complete list of the Big 56 Conference all-conference teams and a first-team photo gallery, click here.