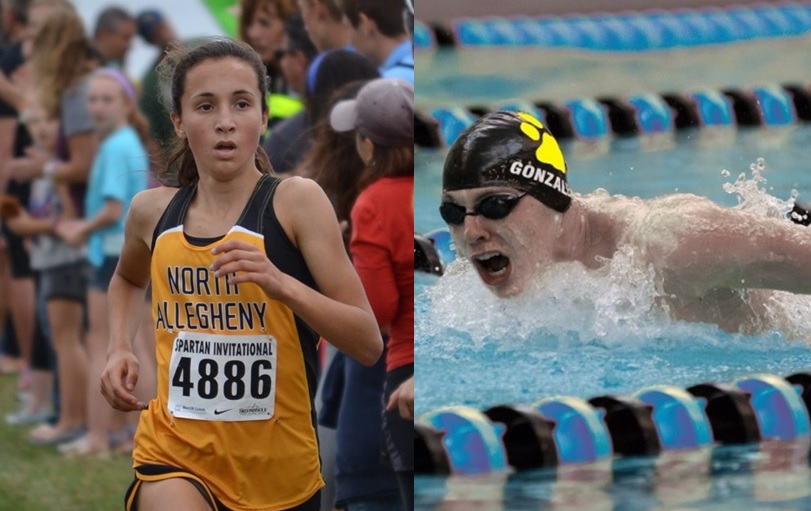 Clara Savchik, Mason Gonzalez Picked For WPIAL Scholarships
The WPIAL announced on Wednesday that North Allegheny senior athletes Clara Savchik and Mason Gonzalez have won the 2017-2018 WPIAL Jim Collins scholar athlete award. Savchik and Gonzalez are two of just 21 awardees who will be honored at a luncheon on May 14 at the Oakmont Junior Ballroom of the Double Tree Hotel in Green Tree. Each winner will receive a $1,000 scholarship and a commemorative plaque.
Savchik is a dynamic runner on the North Allegheny cross country, indoor track and track & field team. She has committed to Duke University where she'll continue her athletic career. This past fall on the cross country team, Savchik captured a PIAA silver medal and a WPIAL bronze. Last season, Savchik captured first place in the WPIAL cross country championships and grabbed silver in PIAA competition. In 2015, Savchik also took home WPIAL bronze at the championship event at Cooper's Lake.
Gonzalez is a standout swimmer for North Allegheny and Stanford University commit. He helped the Tigers swimming & diving team to back-to-back PIAA championships and was a member of the 400 free relay that not only won state gold but set a new national record with an incredible time of 2:53.81.
Congratulations to Clara and Mason on being named WPIAL scholar athlete award winners.