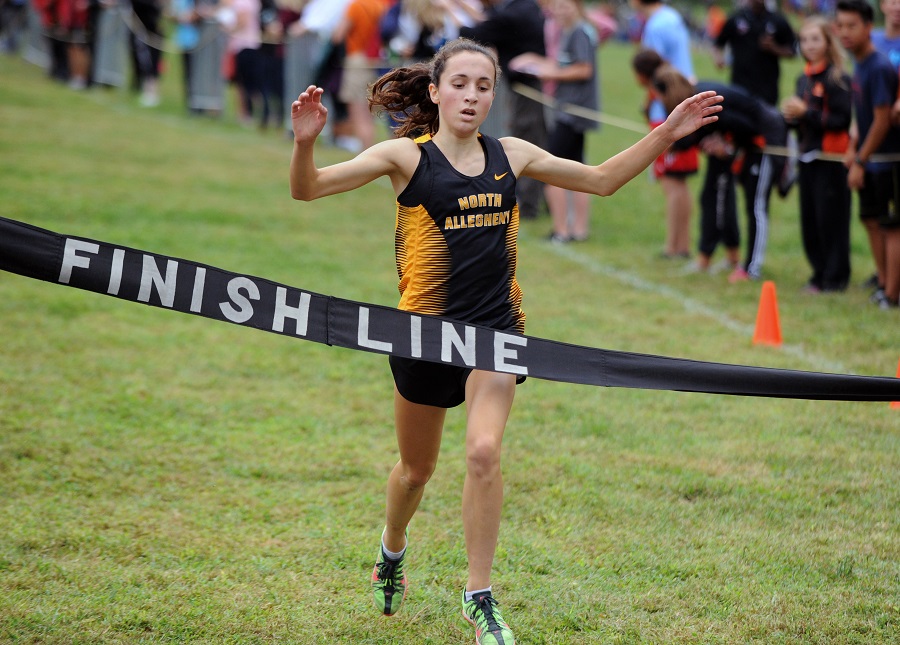 Clara Savchik Sets Course Record At PIAA Foundation Meet
The North Allegheny cross country teams traveled to Hershey, PA on Saturday for the PIAA Foundation Meet.  Running on a modified course from years past due to construction, the Tigers raced hard and fared well against some of the strongest teams in the state.  The NA boys placed 4th and the girls were 6th place in the Gold varsity races.  Clara Savchik was outstanding in her first invitational of the season, placing first overall.  Clara's time of 18:32 was faster than the 871 girls who crossed the finish line Saturday, setting a course record for the new Hershey course.
Inspired by Savchik's leadership, the girls ran strongly behind her.  Hannah Lindgren (freshman) was second for NA with an exceptional time of 20:07 on the hilly 5000 meter course.  Crossing the finish line next was the reliable sophomore Ally Meehan.  She was followed soon after by sophomore, Ally Christy, and junior Tess Wright.  Rounding out the top six was senior Kara Daggett.
Pacing the 4th place boys' team was an outstanding performance by freshman Dan McGoey.  He was the second freshmen to cross the finish line in the gold race.  Junior Clark Smith finished right behind McGoey, along with runners 3-5:  Senior Bobby Lutz, senior Jacob Greco, and junior T. J. Robinson.
The Tigers will travel to Mars this Tuesday to face off against the Fighting Planets and the Pine Richland Rams.
(Above photo by Don Rich, PennTrackXC.com.)