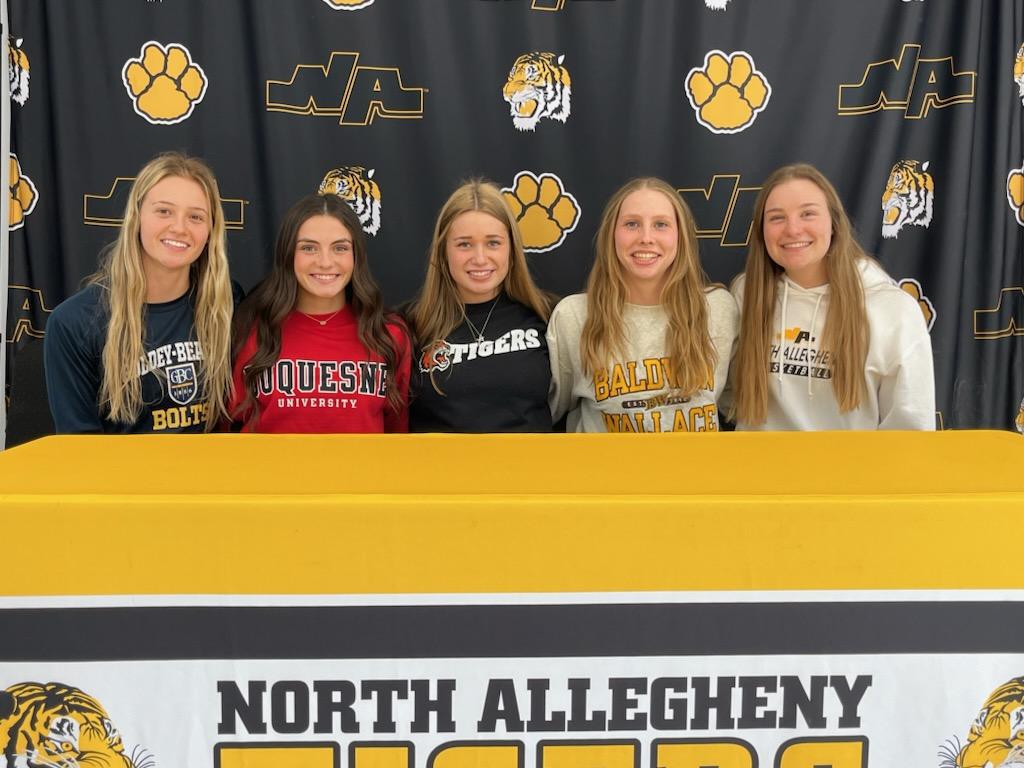 Four Lady Tigers Sign LOI's
Four members of the North Allegheny girls' basketball team made their college choices official on National Signing Day. Seniors Lydia Betz (Goldey-Beacom College), Grace Heliger (Baldwin Wallace), Caroline Henderson (Rochester Institute of Technology) and Kellie McConnell (Duquesne University) all signed their letters of intent on Wednesday.
Betz will play for NCAA Division II Goldey-Beacom, in Pine Creek Valley, Delaware. Betz is a two-time Big 56 Conference all-section selection, including first-team laurels as a junior last season. She is undecided in her major.
Heliger will play for an NCAA Division III powerhouse at Baldwin Wallace. The Yellow Jackets, members of the Ohio Athletic Conference, went 22-6 and qualified for the National Tournament for a fourth consecutive season during the 2022-2023 campaign. Of their 22 wins, the Yellow Jackets defeated No. 2-ranked Trine University and 10th-ranked Ohio Northern. Heliger is undecided in her major.
Henderson is a valuable perimeter shooter for North Allegheny and earned second-team all-section accolades last season. The sharpshooter drained a trio of 3-pointers in North Allegheny's 71-45 win over Upper St. Clair in the WPIAL Class 6A championship game. Henderson will major in Engineering at RIT.
McConnell made a triumphant return to the court this season after missing all of her sophomore year with a knee injury. McConnell earned second-team all-section honors as a junior and Big 56 honorable mention recognition as a freshman. She will major in Education at Duquesne University.
All four players helped the Tigers to a 22-6 record last season and a WPIAL Class 6A championship.