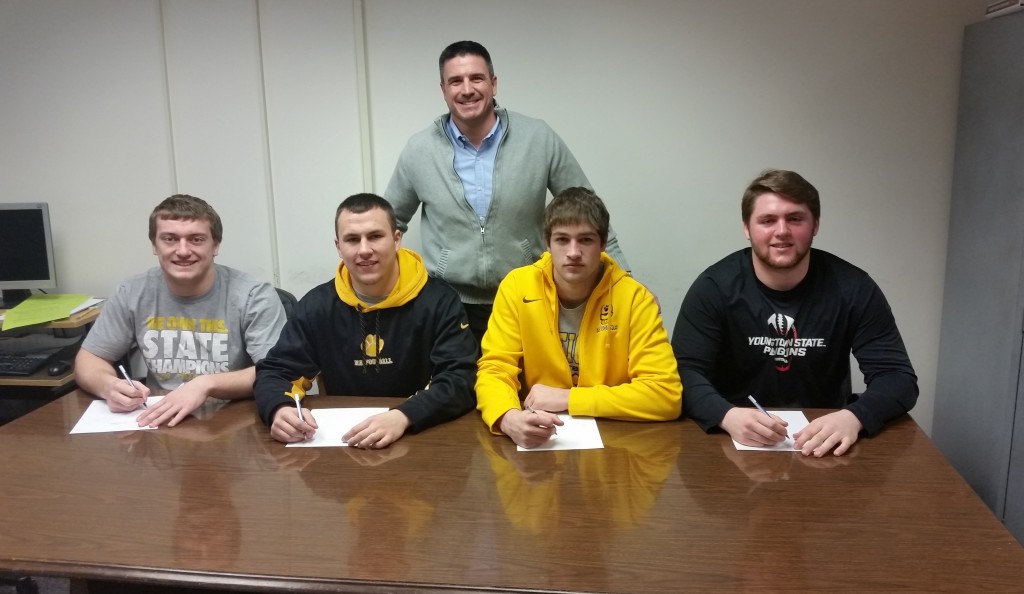 Four NA Football Players Ink Letters On Signing Day
Its National Signing Day and four senior members of the North Allegheny football team have penned their names to universities in the area to continue their playing careers.  Linebacker Layne Skundrich, defensive lineman and tight end Paul Blendinger, and quarterback Jeff Clemens have all signed letters of intent to play for Division II Clarion University.  Lineman Cole McKenry has inked his named to play at Youngstown State University.
Skundrich was an All-Northern Eight Conference selection for the second straight season has been the Tigers leading tackler for three consecutive seasons, posting 85 stops and a team-best 8.5 sacks last fall.
Blendinger was another All-Northern Eight Conference pick last season that can get his nose to football on defense and plow over a defender as a blocking tight end on offense.  Blendinger posted 42 tackles last season, nine for a loss, and 5.5 sacks. Offensively, Blendinger hauled in seven passes for 114 yards and five touchdowns.
Clemens sustained a leg injury late in the 2013 season but looked as good as ever in his return to the gridiron last fall. During his senior campaign in 2014, Clemens passed for 1,212 yards and 13 touchdowns to just four interceptions.  Additionally, Clemens was third on the team in rushing with 477 yards and five touchdowns.  The versatile quarterback rushed for 100 yards in a game twice during the season.
Providing some of the pass protection and run blocking lanes for Clemens and the Tigers running backs was McKenry who bowled over defenders all season long.
(Pictured above from left to right – Layne Skundrich, Paul Blendinger, Jeff Clemens, and Cole McKenry.  Standing – North Allegheny football coach Art Walker.)