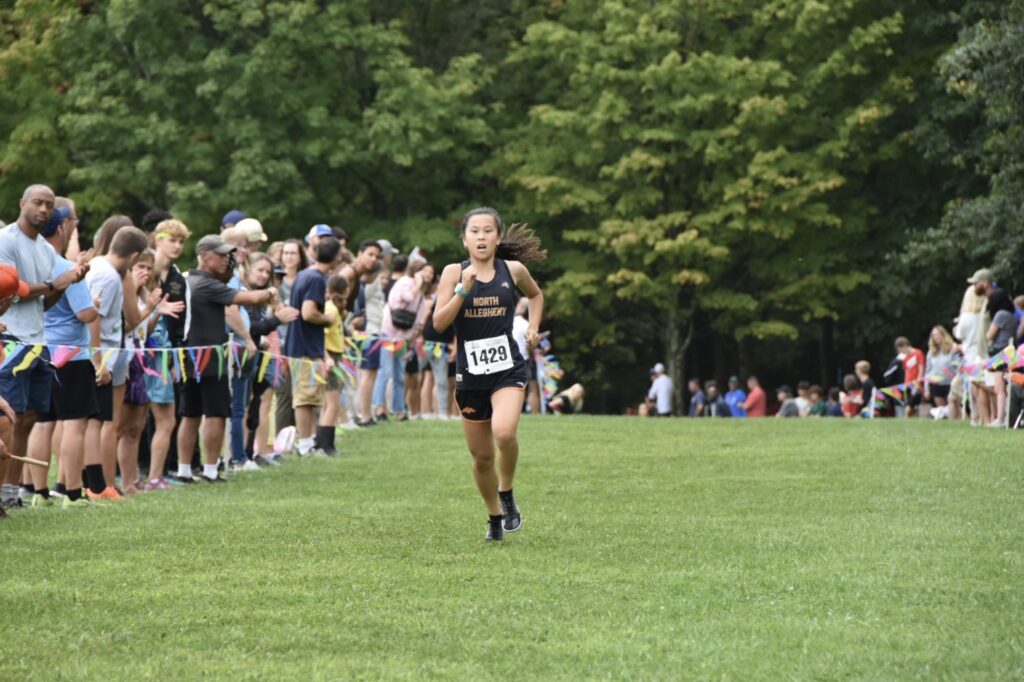 Girls Take 1st Place, Boys Garner 3rd At Spartan Invitational
The North Allegheny cross country teams traveled west to compete in the annual Spartan Invitational in Boardman, Ohio.  The Lady Tigers ran very well earning first place in the 35 team division 1 field. Wren Kucler won individual gold.  The NA Boys battled hard in a close race to earn bronze out of 40 D1 teams, 18 points away from the gold.
In the girls race, junior Wren Kucler ran an amazing race setting the grueling pace early and not letting up. She defended her crown from last year and beat her time by 51 seconds (17:49).  Junior Robin Kucler was phenomenal, taking third overall with a blazing 18:13.  Fellow junior Camille Swirsding stepped up for the Tigers with a great race, taking 14th overall (19:44). Freshman phenom Lily Ries had a big race, placing fourth for the Tigers and 23rd overall (19:52).  Ries was the top freshman in the race.  Junior Kendall Lucas had a strong finish to round out the top five Tigers, placing 37th overall (20:16). Junior Elizabeth Pizon was just over four seconds back to earn 40th overall (20:21).  Next up was sophomore sensation Teresa Pagnotto who was 55th overall (20:51), displacing many teams' scoring runners.
In the boys race, the Tigers were led by junior Jack Bertram who placed second (15:37). Bertram and the champ really separated from the field in the last half mile. It was an incredible dual between the two over the last 400 of the race.  Seniors James Behrend (16:28) and Michael Gauntner (16:37) were next in from the Tigers, placing 23rd and 32nd overall.  Senior Connor Williams had another strong performance to grab 55th (17:02) and Anthony Milklos was right behind him in 56th (17:02). Not far behind Miklos and Williams were senior Alex Mitterer (17:16) and junior Greg Abel (17:22), snatching 80th and 90th respectively. The Tigers ran well but were not able to overcome the strength of Hampton and Hoover's top four runners.
Both teams will look to keep their undefeated dual meet season active this Tuesday at Schenley park as they compete against Central Catholic and Pine Richland.