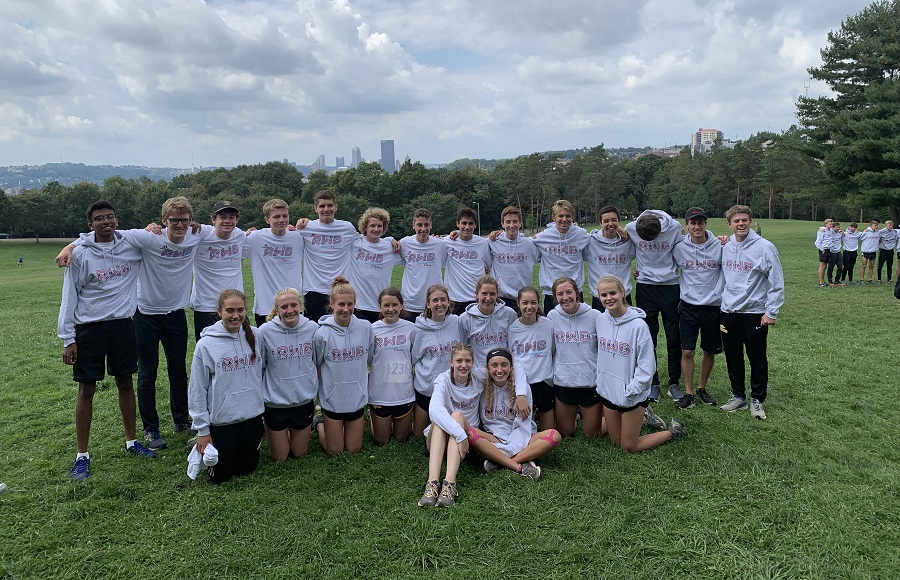 Lady Tigers Claim Title at Red, White & Blue Invitational; NA Boys Runners-Up
The NAXC teams traveled to Schenley Park Saturday morning for the first invitational of the season.  Conditions were ideal for the 17th annual Red, White & Blue Classic.  The top-ranked Lady Tigers ran away with the title for the second year in a row, while the NA Boys finished as runners-up.
The top-ranked girls team dominated the field of 26 AAA teams with a total score of 57 points, which was 35 points better than the second-place team. NA had seven runners in the top 27 of the race. Hannah Lindgren ran an excellent time (18:37) on the five-kilometer course and paced the Tigers with a sixth-place overall finish.  Keeley Misutka ran a very strong race and was only two spots back in eighth place.  Freshman phenom, Lexi Sundgren, was next with an 11th place effort.  Not too far behind Sundgren was senior Caroline Daggett (15th) and sophomore Maura Mlecko, both running great races.  Senior Jenna Mlecko (26th) and Mazzie Standish (27th) displaced every team's fifth or better in what made for an impressive top seven.
The boys also ran well, taking second place out of the 33 AAA teams.  They were 22 points behind the first-place team, Mount Lebanon.  The Tigers had a tight pack up front with their top three finishing within a half second of each other and taking places 18-20.  Junior Andrew Kollitz was 18th, sophomore Graham Wolfe was 19th and Connor Foody was 20th.  The 4th finisher was sophomore Ryan Podnar who was followed closely by senior Daniel McGoey. Seniors Kabilan Balasubramani and Kelso Fiedler helped displace many opponents, finishing sixth and seventh for the NA respectively.
Complete team and individual results can be found here:  https://pa.milesplit.com/meets/362821/results#.XXRKliUpCEf