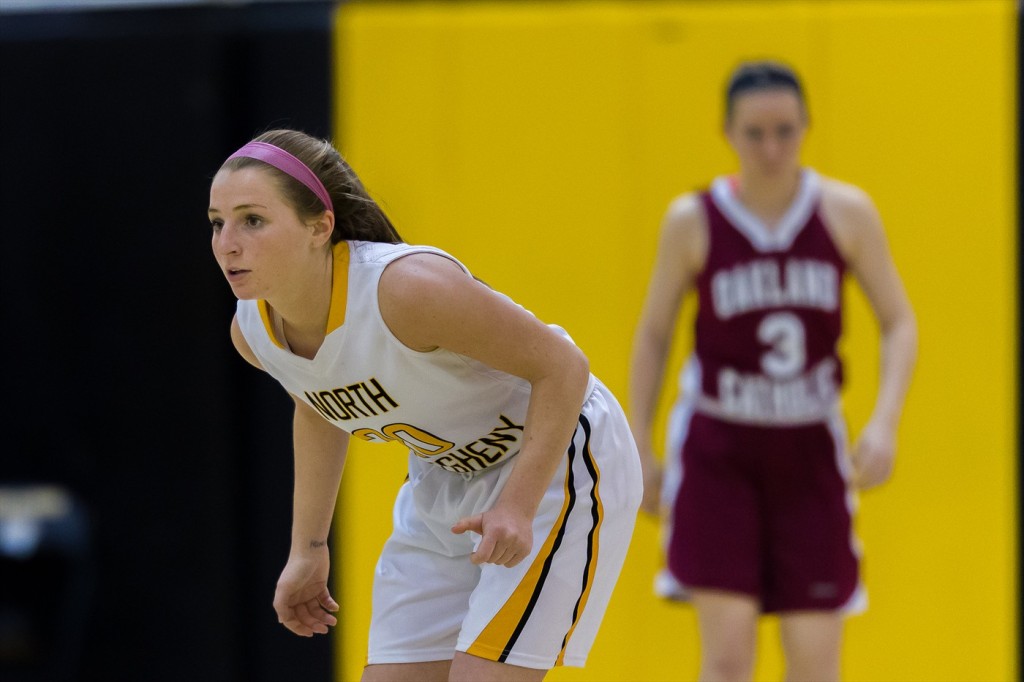 Lady Tigers Crush North Hills On Senior Night, 63-30
By Lee Mohn
The North Allegheny Tigers improved to 19-2 defeating North Hills, 63-30, on senior night.  The Tigers got off to a slow start as both teams combined for 16 turnovers in the first quarter, but the Tigers still managed to build a 10-4 lead. North Allegheny opened up an 18 point halftime lead and controlled the boards, led by Taylor Lake and Meg Morningstar.
North Allegheny continued in the second half with the defensive pressure forcing numerous turnovers which led to points at the other end.  The Tigers ended up forcing 27 turnovers on the night as senior Grace Weiers had four steals.  Leading the way for North Allegheny was Lake with 15 points and 11 rebounds.  Also for the Tigers, Morningstar and Devin LeBarge scored 15 points each.  The seniors for the Tigers, Camille Dvorsky, LeBarge, Karlee Helbling, Weiers and Sarah Duch were the Wright Automotive players of the game for their contribution for the season.
The Tigers will now host the No. 1 ranked team in AA, Seton-LaSalle, on Monday night and will await their seeding for the upcoming playoffs which will be announced on Tuesday night.