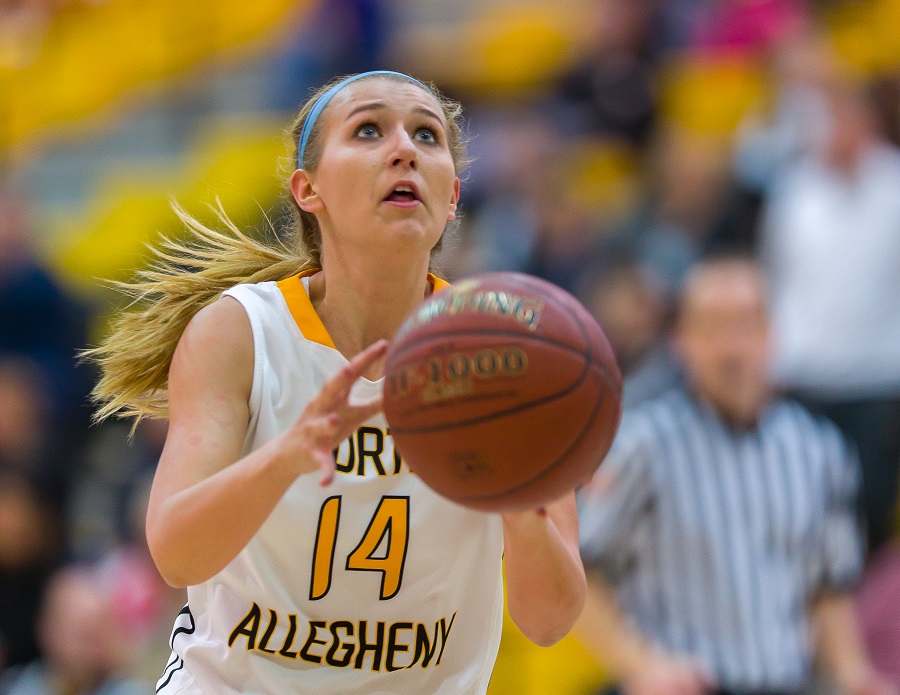 Lady Tigers Drop Joust With Knights In WPIAL Semifinals, 60-52
The Norwin Knights built a 13-point lead in the second half and held off a furious North Allegheny rally for a 60-52 victory and a trip to the WPIAL Championship Game. The Knights will face the Penn Hills Indians in the title tilt on Saturday at 7:00 pm from the Peterson Events Center.
The Knights led 27-25 at halftime and used an 11-0 run to open the third quarter for a 38-25 lead. Norwin's Alayna Gribble and Delaney Arbore were key to the run as both players drained 3-pointers during the span. Gribble finished with a game-high 21 points.
Norwin's lead was 43-30 late in the third quarter before the Tigers began to fight back. Senior Devvin LaBarge hit a buzzer-beating trey to end the period and cut the deficit to 43-35 heading to the fourth quarter.  LaBarge poured in three 3-pointers for the Tigers and totaled nine points.
Foul trouble cost Meg Morningstar and Hailey Zeise some floor time in the first three quarters, but with a trip to the championship game on the line both were valuable to NA's rally.  Morningstar scored eight points in the fourth quarter and Zeise forced numerous Norwin turnovers as the Tigers charged back to within 47-45 midway through the final stanza.
The Tigers could come no closer, however, as several buckets by Gribble down the stretch and clutch free throws by sophomore Danielle McMaster sealed the win for the Knights. McMaster ended the evening with 10 points and was 6 for 7 from the charity stripe. Taylor Sabol added 11 points with most of her work coming in the first half.
North Allegheny was paced by junior Abby Gonzales' 13 points and 10 rebounds.  Gonzales was 5 of 6 from the free throw line and added five assists, earning her Wright Automotive Player of the Game honors.
Along with Gonzales, Morningstar also posted a double-double with 10 points and 10 boards. Junior Taylor Lake totaled 12 points and four steals. With Morningstar and Zeise in foul trouble in the first half, senior Karlee Helbling provided valuable minutes and knocked down a pair of shots from beyond the arc in the second quarter.
Norwin improves to 20-4 on the season and snaps North Allegheny's 18-game winning streak. The Tigers slip to 22-3 on the year and will continue their season in the PIAA tournament next week.