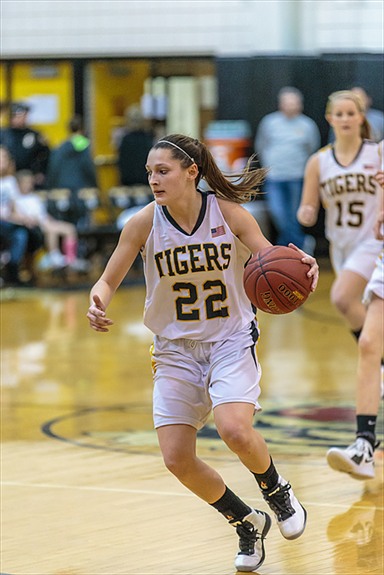 Lady Tigers Stampede Colts At NA Tip-Off, 69-44
The North Allegheny Girls Basketball Team turned a close game at halftime into a second half rout, galloping away from the Chartiers Valley Colts for a 69-44 decision on Friday night at the Wright Automotive Tip-Off Tournament.  The Lady Tigers held a 25-23 lead at intermission, but busted the game wide open with a 24-point third quarter. Senior Taylor Brennan was the game-high scorer with a 16 point performance, knocking down two second half treys.
Brennan's ability to drive the lane and drop in accurate runners over top of Char Valley's tall forwards helped North Allegheny build a 17-6 lead by early in the second quarter.  Trotting their way back, the Colts trimmed NA's advantage to just three points by halftime thanks to the work of senior guard Lauren Herron who dropped in eight first half points.
In the second half, the sledding got much tougher for Herron and the Colts. The Tigers pressured Chartiers Valley into 21 turnovers and limited Herron to just one more bucket for the remainder of the game.  North Allegheny also did well to hold down talented seniors Kristen McGeough and Jenna Devinney to just five points combined.  Tigers' sophomore Abby Gonzales was the top tormentor of the Colts, reeling in a game-high five steals. 
Gonzales and junior Devvin LaBarge provided the offensive separation for North Allegheny against the Colts in the second half. Gonzales and LaBarge combined for only three points by intermission, but the two paired up for 20 points over the final 16 minutes. LaBarge in particular provided a big lift in NA's third period outburst and was named the Wright Automotive Player of the Game. Up 49-31, Brennan opened the fourth quarter with a three-pointer to give the Tigers a 21 point lead and the competitive phase of the contest was over.
In all, four Tigers finished with double-digits in scoring. LaBarge ended the night with 12 points and Gonzales posted 11. Sophomore Taylor Lake racked up 13 points and pulled down a team-best six rebounds. For Char Valley, junior Melissa Rickens scored a team-high 11 points and dropped in three treys.
Following the season opening win, North Allegheny returns to the floor in day two of the Wright Automotive Tip-Off Tournament this afternoon with a 3:00 pm contest against the Mt. Lebanon Blue Devils.  In the preceding varsity game at the tournament, Chartiers Valley faces Altoona at noon. North Allegheny's game against the Blue Devils will be broadcast live via the internet on the North Allegheny Sports Network.  To listen, click here!
For a box score of NA's win over Chartiers Valley, click here.