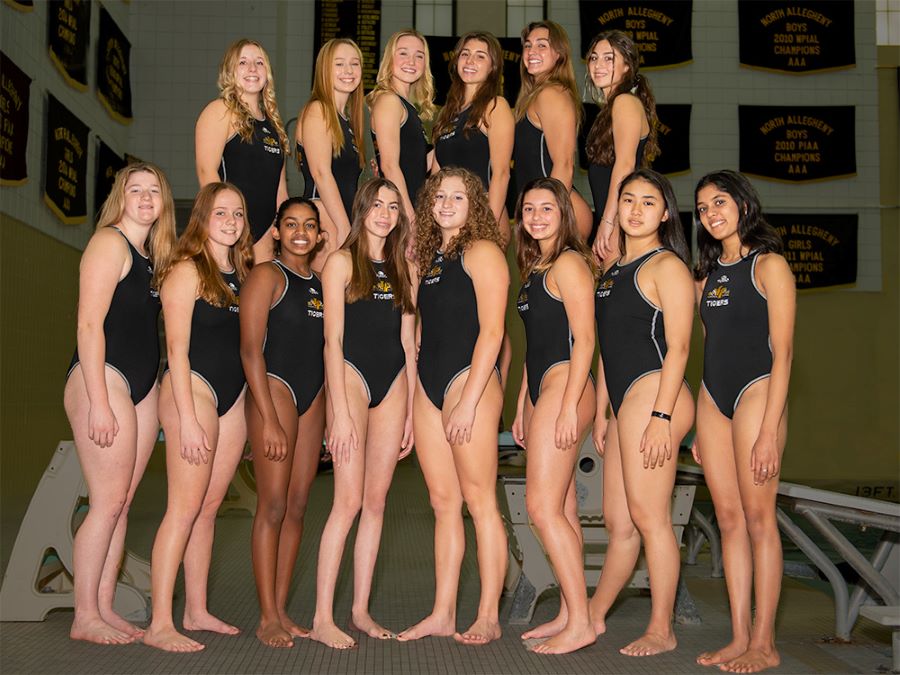 Lady Tigers Take 6th At States
The North Allegheny girls' water polo capped the 2022 season over the weekend with a sixth-place finish at the Pennsylvania State Championship Tournament at North Penn High School.
The Lady Tigers opened the tournament on Friday night against Wilson and dropped an 11-6 decision. The Tigers hung tough with the eventual state champions and trailed only 5-3 at the half before the Bulldogs pulled away with three consecutive goals in the third period. NA was led by senior Becca Melanson, who tallied a team-leading five goals and five steals. Senior Mikayla Tieppo also scored for the Tigers in the loss. In net, junior goalie Izzie Trunzo made 13 saves.
North Allegheny bounced back on Saturday morning with a thrilling 15-13 come-from-behind victory against Upper Dublin. Facing a team that NA had lost to 14-5 earlier in the season, the Tigers rallied from a 5-1 deficit to earn the win. Melanson paced the team with seven goals, six steals and five assists. Junior Carissa Jones added to the NA firepower with five goals, while Tieppo, Katyusha Peregoncev and Payton Donnelly all netted one goal apiece. Trunzo made nine stops for the victory.
In the fifth-place consolation match, North Allegheny fell to Muhlenburg, 13-6. Melanson was excluded with her third foul by the beginning of the second quarter and left the game with two goals and three steals. Undaunted, the Lady Tigers remained determined throughout the contest, foreshadowing their bright future for next season. Jones posted a hat trick and three steals and Peregoncev also scored for NA. Trunzo hauled in 10 saves in the finale.
Several Tigers were honored for their outstanding performances throughout the season. Melanson was named first-team all-state and the Miss Pennsylvania Water Polo for 2022. Trunzo garnered second-team all-state recognition, while freshman Mikaela Dassanaike was tabbed the Rookie of the Year in PA. Dassanaike and Bella Spino were both selected to the All-Freshman Team.
The North Allegheny girls' water polo team finished another successful season with a 12-9 record to go along with its sixth place showing at states. Congratulations to the entire team and coaching staff for a memorable season.