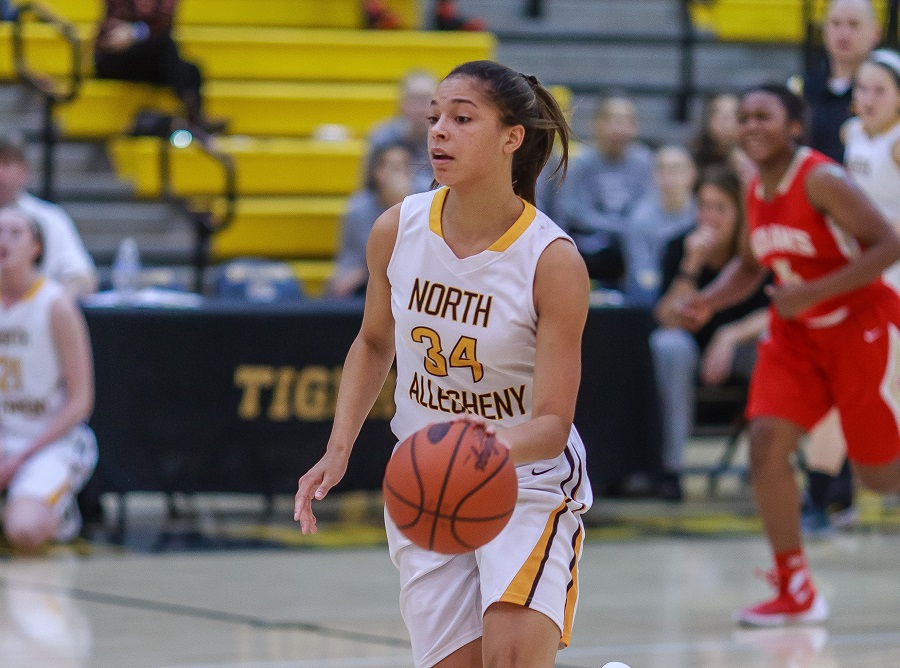 Lady Tigers Throttle Ambridge, 60-29
By Kellen Gurskey
For the second time in two nights, the North Allegheny Lady Tigers' defense held their opponent to lower than 30-percent shooting from the field. NA cruised to a 60-29 win over Ambridge at the Wright Automotive Holiday Tournament.
The game started off slow for the Lady Tigers as the score stood 6-6 just a few minutes into the game. But after a time out by Head Coach Spencer Stefko the tigers went on a 10-3 run to close out the quarter, and they didn't look back. In the second quarter the defense of the Lady Tigers shined, only allowing two points in the entire quarter. Hailey Zeise led the way for the Tigers early on, scoring nine first half points, and finishing with a game and team-high 15 to go along with a team-high seven boards. Zeise also shot an impressive 7 of 12 from the field and 1 of 2 from 3-point land. Zeise was named the Wright Automotive Player of the Game.
It was an impressive scoring attack from NA as ten different players found the scoresheet. Junior Madelyn Fischer chipped in nine points and was a perfect 1 of 1 from 3. Sophomore Brynn Serbin filled up the stat sheet with eight points, five rebounds, four assists, and four steals. Sophomore Rachel Martindale was 2 of 4 from beyond the arc and added eight points.  For Ambridge, sophomore Aniya Walker had a team-high 11 points and garnered six rebounds.
North Allegheny remains undefeated on the season, improving to 8-0 overall. Ambridge drops to 3-5. The Lady Tigers will square off against the Norwin Knights in a rematch of the 46-43 thriller just over two weeks ago on Thursday night at 7:00 in day three of the Wright Automotive Holiday Tournament. The game will be live on the North Allegheny Sports Network.