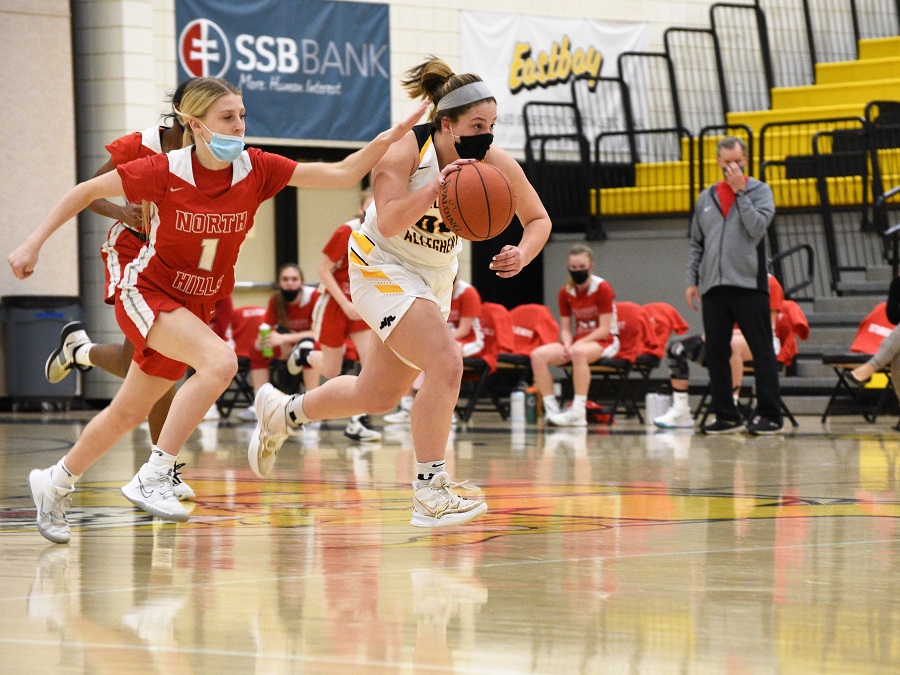 Lady Tigers Run Away From Indians, 55-17
For the second straight game, North Allegheny Lady Tigers walloped their opponent. The Lady Tigers defeated North Hills Tuesday by a final score of 55-17.
For the first few seconds of the game North Hills was leading 3-2. However, just minutes after the lead was established, North Allegheny went on an 18-0 run in the middle of the first quarter. Seniors Lizzy Groetsch and Paige Morningstar led the way in the first quarter and combined for double digits in points.
The second quarter was much of the same with North Allegheny controlling the pace of play and growing the lead to 33 points. The Lady Tigers finished the half scoring 40 points. Groetsch ended her night after the first half and finished with a team leading 12 points.
The second half gave the Tigers a chance to look at their future, playing mostly underclassman. Leading the bunch was freshman Lydia Betz and sophomore Cam Phillips, who scored nine and seven points, respectively, in the half. Other contributors include junior Emma Fischer, who finished with seven points, and sophomore Annalyn Isaacs, who added five points.
With the win, the Lady Tigers progress to 6-0 overall and 4-0 in the section, while the North Hills Indians fall to 0-7. The next game will be at home against Pine Richland, tip-off is set for 7:30 p.m. The game will be video streamed by the North Allegheny Sports Network.