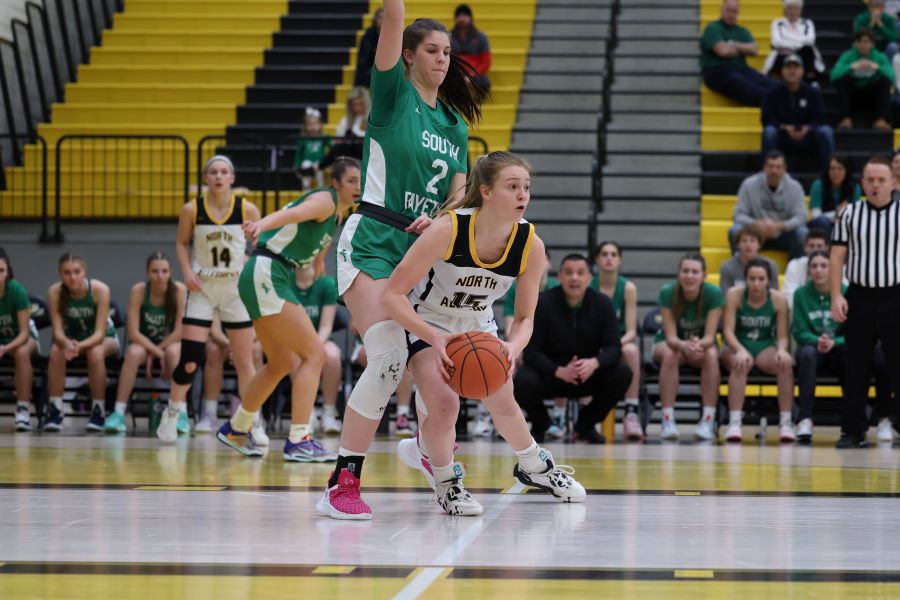 Lions Edge Tigers In Non-Conference Tilt
By Jared Barton
In a battle of two of the top teams in the WPIAL, South Fayette edged North Allegheny 46-43 in the Bash with the Bronx  Tournament at UPMC Court Saturday afternoon.
South Fayette opened the game with a 16-4 run in the first quarter showing off why they were the top ranked team in 5A. Lion Seniors Maddie Webber and Ava Leroux had their scoring ability on display early in the game. NA went on an 8-0 run sparked by senior Jasmine Timmerson, who scored the first 6 Tiger points in the contest. Timmerson finished the first half leading all scorers with 15 points.
North Allegheny held South Fayette to just 8 points in the 2nd and 3rd quarters thanks to great defensive efforts from juniors Lydia Betz and Kellie McConnell as well as senior Eva Prenatt. Timmerson gave the Tigers the first lead of the contest with 5:30 left in the 3rd at 28-26. The Tigers kept the offense humming, scoring 13 points in the 3rd frame. Senior Cam Phillips' first basket of the game extended the NA lead to 35-32 with a quarter left to play.
The Lions stepped up in the 4th quarter, outscoring the Tigers 14-8 and regaining the lead for good. Tied at 39, Junior Lainey Yater nailed a three-pointer giving the Lions the 42-39 edge with 3:32 left. Yater also hit multiple free throws to ice the game in the final seconds.
Timmerson finished the contest with 22 points, leading all-scorers. Betz earned Wright Automotive Player of the Game laurels with her 10-point performance and efforts on the defensive end.
With the loss, the Tigers fall to 16-5 overall. NA will be back in action for another non-conference matchup to wrap up the regular season on Monday, as the team travels to State College for a 6:00 p.m. tip.