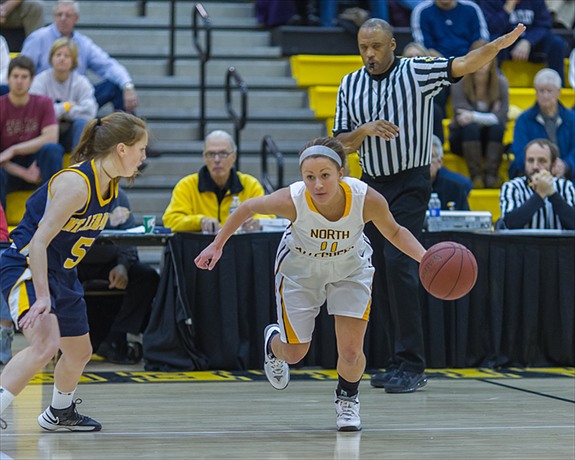 Mt. Lebanon Edges Tigers With Last Second Jumper, 60-58
A two-point jump shot by sophomore Maura Wallace with two seconds remaining vaulted the Mt. Lebanon Blue Devils to a 60-58 win over the North Allegheny Lady Tigers in the finale of the Wright Automotive Tip-Off Tournament on Saturday afternoon.  Wallace's field goal in the waning seconds was set up on a dribble-drive pass by senior Margie McCaffrey who finished the game with 13 points.  Mt. Lebanon's Christine Ehland was the game-high scorer with a 21 point effort, earning her tournament MVP honors.
The Blue Devils full court press frazzled North Allegheny in the opening minutes of the game, forcing NA into numerous turnovers and fouls.  Mt. Lebanon converted those fouls into a 5-0 lead and put the Tigers in early foul trouble.  Despite the initial deficit, the Lady Tigers roared back to grab a 31-21 lead midway through the second quarter.  Senior guard Taylor Brennan had a terrific day for North Allegheny and was a key figure in breaking the Mt. Lebanon press with her ball-handling skills. Brennan scored nine first half points and ended the day with 17 points.  Brennan garnered Wright Automotive Player of the Game laurels and was named to the All-Tournament Team.
Also playing a key role for the Tigers off the bench was sophomore Sammie Dallier.  Thrust into significant minutes because of NA's foul trouble and an injury to forward Meg Morningstar the night before, Dallier pulled down six rebounds and chipped in with four points. Dallier joined Taylor Lake and Danielle Wall with six boards apiece. Wall tallied 10 points and sophomore Abby Gonzales delivered a dozen points and a game-high six steals. Like Brennan, Gonzales was also named to the All-Tournament Team.
After falling behind by ten in the second quarter, Mt. Lebanon trimmed NA's lead to 33-27 by halftime and remained down by six heading into the fourth quarter.  By the fourth, the Tigers foul problems finally caught up with them as the Blue Devils managed to take a 58-53 lead with about two minutes to play. Undaunted, the Tigers bounced back with two free-throws by Brennan and a subsequent steal, lay-in and three-point play conversion by Gonzales to even up the score, 58-58, with one minute remaining.  The Blue Devils held the ball for the last shot, setting the stage for Wallace's game winning bucket.
North Allegheny moves to 1-1 on the season while Mt. Lebanon improves to 2-0.  North Allegheny visits Moon on Monday night in a non-conference affair.  The Blue Devils will host Canon-McMillan on Friday night in their Section 4 opener.
For a box score of NA's game vs. Mt. Lebanon, click here.