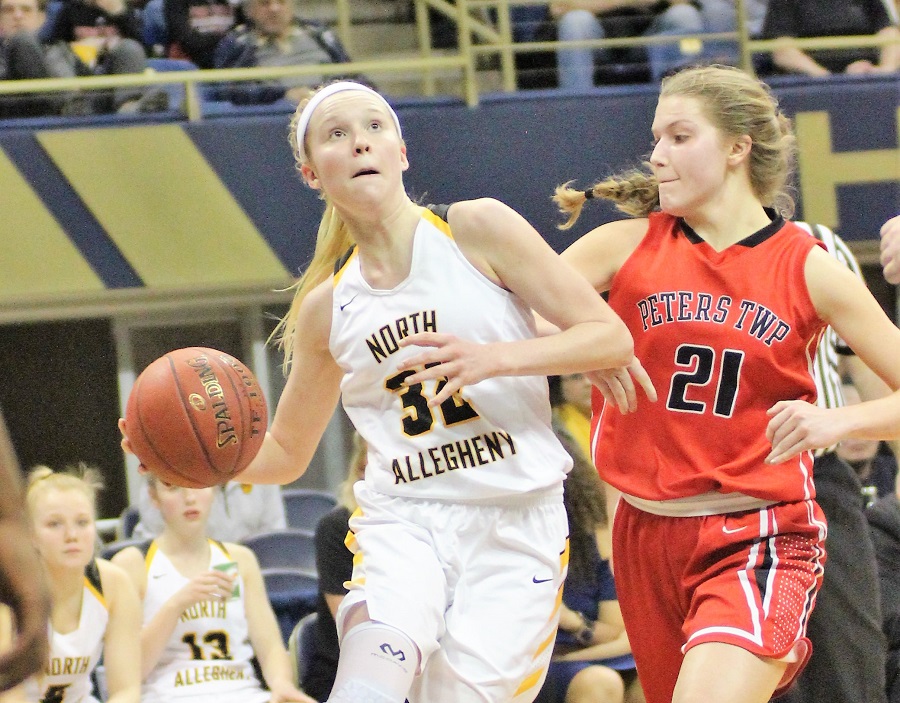 NA Battles Peters Township Tonight In Class 6A Championship Rematch
For the second straight season, the WPIAL Class 6A championship will come down to the North Allegheny Tigers (23-1) and the Peters Township Indians (24-0). Last season, the Tigers captured their second straight WPIAL crown in convincing fashion, posting a 79-48 mercy-rule win over the Indians.
Both teams enter tonight's game with high aspirations. North Allegheny is vying for a third straight WPIAL championship and is appearing in the title tilt for the fourth consecutive season. Peters Township, meanwhile, has been thinking about a return trip to the championship game since last season and has run roughshod over all comers during the 2018-2019 campaign. Peters Township leads Class 6A in scoring, averaging nearly 70 points per game.
It's already been an historic season for the Indians as they became the first girls' basketball team in Washington County history to post an undefeated regular season. A win tonight would make Peters Township just the 17th girls basketball team ever to win a WPIAL crown with an undefeated record.
Peters Township is the top-ranked team in Pennsylvania and boasts one of the top guards in the state in the form of senior Makenna Marisa. Marisa is a Penn State commit and averages over 20 points per game. She was recently named Big 56 Conference first-team all-section for the fourth time in her career.
Joining Marisa as first-team all-section members are senior guard Isabella Mills, a Case Western Reserve commit, and freshman forward Journey Thompson. Thompson is considered one of the top freshman power forwards in the state by rivals.com. With Marisa and Mills already in place as returnees, the addition of Thompson this season gives the Indians an inside threat they have not had in recent years.
North Allegheny, the No. 2-ranked team in the state in Class 6A, is also well-stocked in talent. Senior Rachel Martindale, who scored her 1,000th career point against Peters Township in last year's championship game, is an Akron University commit and two-time all-state honoree. Martindale, along with teammates Brynn Serbin and Lizzy Groetsch, was also selected to the Big 56 Conference first-team all-section squad. Serbin is an Ohio Northern University commit and Groetsch is a talented sophomore guard who comes from a good blood line of basketball players. That family tradition includes her brothers Dave and Chris, who both won WPIAL titles at Sewickley Academy.
While the Indians have an undefeated record so far this season, they have not beaten North Allegheny in over a decade. The Tigers have won seven in a row against the Indians. PT's last win against NA was on Dec. 9, 2008 by a 56-43 decision in Washington County.
Tip-off for tonight's WPIAL Class 6A championship clash is set for 7:00 p.m. at the Petersen Events Center. As always, this NA playoff game can be heard live on the North Allegheny Sports Network with broadcasters Randy Gore and Rick Meister on the call. To listen to tonight's game, click here.