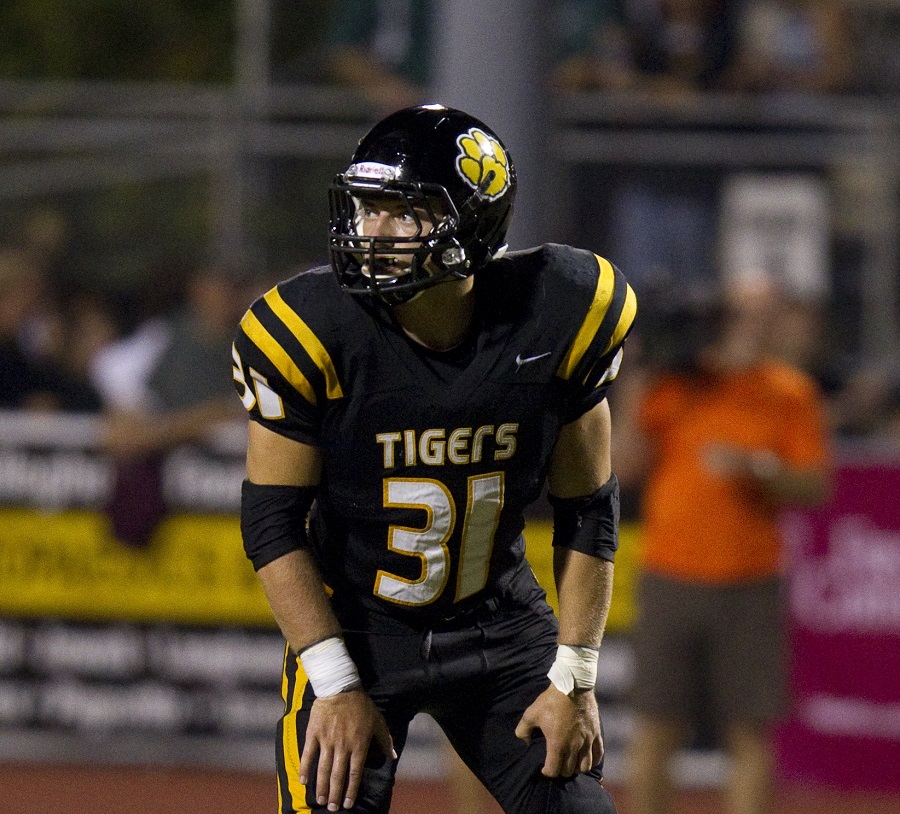 Tigers Have Eye On Revenge In WPIAL Quarterfinal Rematch With USC
North Allegheny (1-2) renews one of the fiercest non-conference rivalries in Class Quad-A tonight when the Tigers host the Upper St. Clair Panthers (1-2) at Newman Stadium. Once upon a time these teams were both members of the Quad North Conference, but while the teams moved into separate conferences in 2006 they have remained regular foes in the regular season and in the playoffs. It was Upper St. Clair who ended North Allegheny's season last November with a 41-23 defeat in the WPIAL quarterfinals.  Prior to that, the Tigers met the Panthers in the 2011 WPIAL Championship with NA coming away with a 28-21 overtime victory.
Like North Allegheny, Upper St. Clair has a proud winning tradition and has reached the WPIAL semifinals three straight seasons. However, the Panthers lost 21 of 22 starters from last year's playoff team, including eight all-conference selections. The lone returning starter is senior linebacker Jesse Slinger who leads the Panthers in tackles with 25.  On the offensive side of the football, fullback Marcus Galie has the most experience as a reliable fullback.  Galie has rushed for 83 yards on 19 carries and two touchdowns this season.  His season high in 2013 came against the Tigers in the quarterfinals as Galie rushed for 65 yards.  While Galie is a strong runner, the leading ball carrier for USC is sophomore Thomas Vissman who has toted the ball for 250 yards and one score.
The starting quarterback for Upper St. Clair this season is senior Dan Trocano who has completed 25 of 40 passes for 462 yards and three touchdowns. Without having thrown an interception, Trocano is an efficient QB that is complimented by red zone signal caller, Gunnar Lund.  Don't let his first name fool you, Gunnar is the runner of this QB duo and has rushed for 35 yards and three touchdowns on just seven carries.  Lund gives head coach Jim Render an added wrinkle to the offense when the Panthers are inside the 20-yard line. Render, in his 36th year at Upper St. Clair, has the most wins in the WPIAL with 376.
North Allegheny head coach Art Walker is no stranger to victories himself with 154 over his coaching career and five WPIAL titles. After running the early-season gauntlet of Seneca Valley, Pine-Richland and Central Catholic in the first three weeks, Coach Walker and the Tigers look to rebound from a 1-2 start tonight against the Panthers.
North Allegheny's offense has been paced by the right arm and the legs of starting quarterback Jeff Clemens who has thrown for 333 yards and rushed for 288 more and three touchdowns. Clemens is complimented by junior signal caller Riley Trueman who has rushed for 49 yards and two touchdowns.
At tailback, senior Josh Bergman is a straight-ahead runner who has plowed his way to 116 yards and four scores on 32 carries.  When the Tigers take to the air, the receiver of choice is senior Clay Byerly who has reeled in 15 passes for 210 yards. Tight ends Paul Blendinger and Griffin Sistilli will also see targets in the passing game.  Blendinger pulled in a 2-yard touchdown catch from Trueman last week against Central Catholic.
Tonight's meeting between North Allegheny and Upper St. Clair is the 14th since 2002.  Despite falling to the Panthers in last year's playoffs, the Tigers have taken 3 of the last 5 from USC. Kickoff for tonight's game is set for 7:30.  The pre-game show for tonight's internet broadcast on the North Allegheny Sports Network begins at 7:10.  Randy Gore and Rick Meister have the call.  To listen to tonight's broadcast, click here.