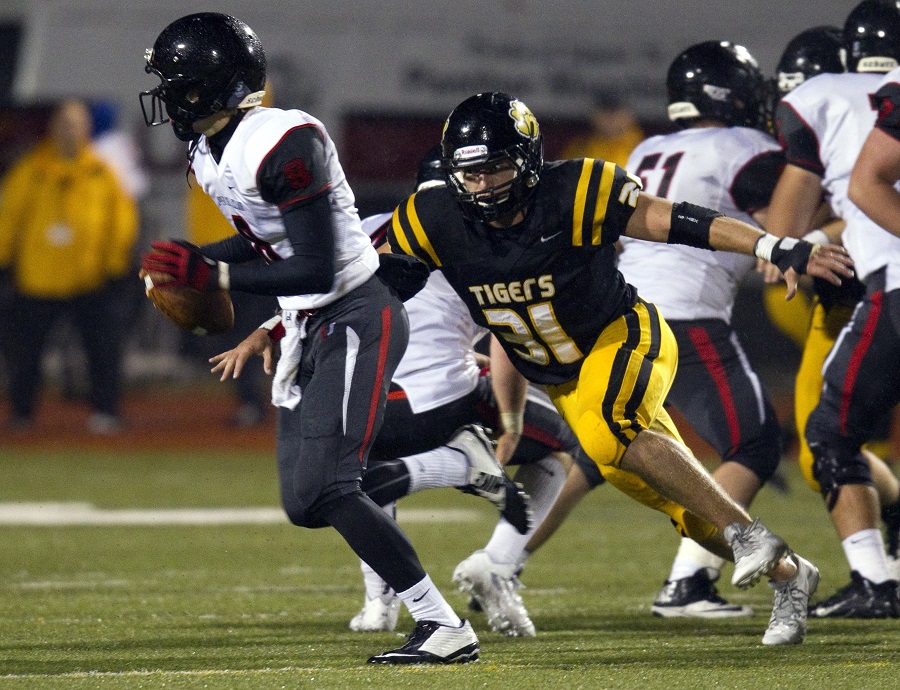 NA Blanks Upper St. Clair In WPIAL First Round, 24-0
Seventh-seeded North Allegheny churned up 262 yards on the ground and held Upper St. Clair to 78 total yards en route to a 24-0 victory in the opening round of the Class AAAA playoffs. The Tigers dominated the Panthers from the outset, marching the opening possession 67 yards on 12 plays for a touchdown.  NA capped the drive on an 18-yard touchdown pass by Jeff Clemens to tight-end Paul Blendinger for a 7-0 lead.  Blendinger was also a force on defense, collecting 5.5 tackles, three for a loss, and two sacks.  For his efforts, Paul Blendinger was named the Wright Automotive Player of the Game.
Along with Blendinger, the Tigers defense registered five sacks and held Upper St. Clair to an 0 for 10 night on third down conversions. Senior linebacker Layne Skundrich collected a team-high six tackles and one sack in another superb performance from the defense.
With Upper St. Clair's offense in a state of helplessness, North Allegheny's offense culminated another lengthy drive, a 93-yard march, in the second quarter with a 1-yard touchdown run by senior Josh Bergman to increase the lead to 14-0, Tigers.  Kicker Seth Mancuso added a 35-yard field goal with 4:17 to play in the second quarter to give the Tigers a 17-0 lead at the half.
North Allegheny put the game away with its first possession in the second half, capping a 58-yard drive on a fantastic play by sophomore receiver Ethan Maenza.  On a 4th and 6 from the Upper St. Clair 34 yard line, Maenza accepted a reverse toss from Michael Pope and sprinted down the left sideline. Maena hurdled a defender at the 5-yard line, narrowly stayed inbounds, and dove into the end zone for a highlight reel touchdown.  The Maenza touchdown brought the final score to 24-0, Tigers.
With 262 yards on the ground, Pope was NA's leading rusher with 97 yards on 13 carries. Maenza racked up 88 yards on two carries.  Bergman added 38 yards and a touchdown.
North Allegheny improves to 8-2 on the season and will advance to the quarterfinals to face the second-seeded Penn-Trafford Warriors. Upper St. Clair finishes with a rare losing season at 4-6.
For a look at final team and individual stats from NA's win over Upper St. Clair, click here.