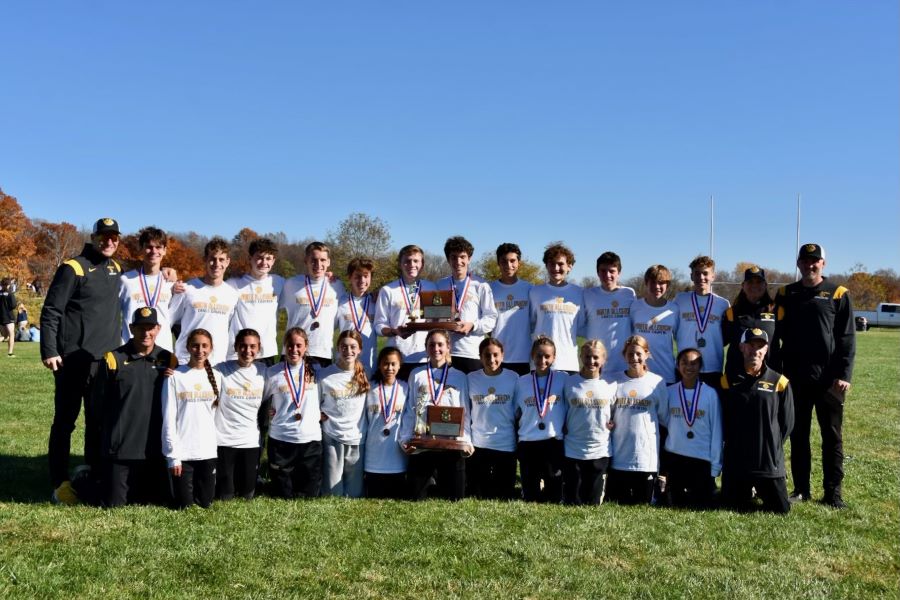 NA Boys, Girls Both Win 5th Straight WPIAL Championship
by Cross Country Contributor
It was a beautiful day for a WPIAL cross championship meet at California University of Pennsylvania on Thursday and the NA Boys and Girls teams both claimed a fifth consecutive WPIAL Class crown.
In the girls' race, the Tigers dominated the field, scoring only 39 points and cruising past second-place Mt. Lebanon, who finished with 107 team points.  Six Tigers ran their fastest time ever on the challenging course. The top five all medaled and all of NA's top seven were in the top 25 of the race. Elite sophomore Wren Kucler led the way with a fantastic fourth-place performance.  Junior Eva Kynaston was the Tigers' next finisher, having a tremendous race and grabbing sixth overall.  Just four seconds back from Kynaston was junior Erin McGoey with a very fast time in seventh place.  Senior Grace Rowley was awesome, coming in just behind McGoey in eighth overall.  Sophomore Kendall Lucas had a strong race edging out a couple opponents at the line to take 20th overall. Rounding out the scoring for the champs was sophomore standout Camille Swirsding in 25th.
In the boys' race, North Allegheny managed one of the lowest point totals in school and WPIAL history. Scoring only 31 points, the Tigers outdistanced second-place South Fayette by 114 points. NA placed three in the top five, and all seven runners finished in the top 17 of the race.  All seven runners ran personal bests for the course. Sophomore standout Jack Bertram ran an incredible 15:53 on the hilly 5k course to take second place overall. Butler's Drew Griffith won the race and broke the course record.  Senior Gregory Kossuth had a great day taking fourth place and not far behind him was senior Jackson Pajak with a phenomenal fifth-place performance.  Junior James Behrend was fantastic in eighth overall. Following up his breakout race last week, senior Nick Betler outdid himself again with a new lifetime best, doing so on a course that runs slow due to the massive hill. Barreling in after Betler was an incredible sprint finish from junior Michael Gauntner who passed five people in the last quarter mile of the race. Senior Joey Rempe rounded out the scoring for NA with a great performance in 17th, displacing the top five finishers from all Class AAA teams.
Following Thursday's WPIAL title victories, the Tigers hope take some of the positive momentum into Hershey next Saturday for the PIAA state championships.