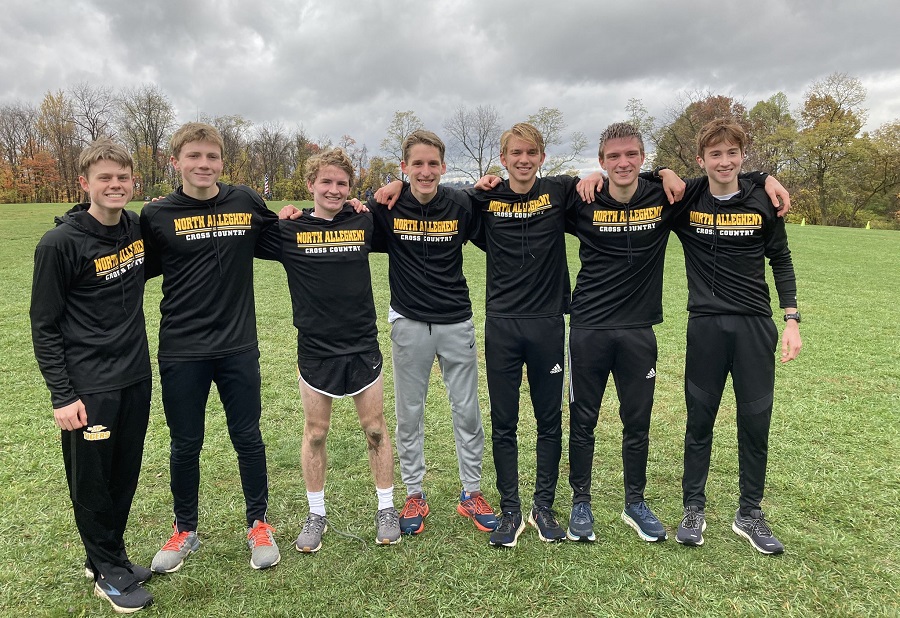 NA Boys, Girls Cross Country Crowned WPIAL Champions
The stakes were high for the 2020 WPIAL cross country championships held at White Oak Park. Only the AAA team champion for each gender would qualify for the PIAA state championship next weekend. Rising up to the high-pressure competition, the North Allegheny Tigers performed extremely well and seized gold for both NA boys and girls squads.
The NA boys totally dominated the field.  The Tigers placed all seven runners in the top 20, a feat that has been unfathomable in recent WPIAL championships.  They scored only 40 points (second place was 82 points).  This was the boys' 31st WPIAL title since the program was started in the 1960 (the most of any team in WPIAL history).  Leading the Tigers as he has most of the season was junior Scott Nalepa in fourth place.  Having one the best races of his high school career, junior Graham Wolfe, came in next at sixth.  Coming in right behind Wolfe was sophomore sensation Gregory Kossuth in seventh with a great race.  Senior, Drew Kollitz, had another strong race and a monster finish, placing ninth overall.  Next in for the Tigers was junior Jack Hickel, who bounced back after falling down early in the race on the muddy course, finishing 14th.  Continuing his outstanding freshman season, Michael Gauntner ran a tough race, coming in 18th overall.  Rounding out the Tigers' top seven and sealing the dominant victory was senior Connor Foody.  Complete results can be found here: http://runhigh.com/2020RESULTS/R102820AF.html
4  Scott Nalepa, Jr                  16:09    5:12
6  Graham Wolfe, Jr               16:23    5:17
7  Gregory Kossuth, So          16:25    5:18
9  Andrew Kollitz, Sr               16:29    5:19
14  Jackson Hickel, Jr             16:38    5:22
18  Michael Gauntner, Fr        16:48    5:25
20  Connor Foody, Sr             16:53    5:27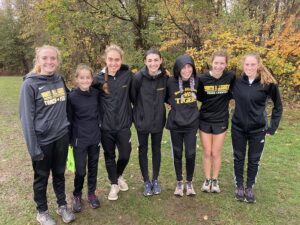 The NA girls' team claimed the title in convincing fashion, only scoring 67 points (98 points was second place).  This was the girls' 14th WPIAL title since the program was started in 1974.  They were led by reliable senior Keeley Misutka, who has been the girls' frontrunner all season.  Having perhaps her best race in an already outstanding freshman campaign, was Eva Kynaston in eighth place.  Next up was junior Maura Mlecko with an outstanding time (19:13) in 14th place.  Sophomore Lexi Sundgren was next with a solid race and great 16th place finish.  Stepping up huge for the Lady Tigers with one of her best races ever was senior Mazzie Standish in 26th place.  Junior Rachel Hockenberry was next in 46th place and freshman Erin McGoey helped seal the win with a 54th place finish.  Complete results can be found here: http://runhigh.com/2020RESULTS/R102820AG.html
3  Keeley Misutka, Sr             18:27    5:57
8  Eva Kynaston, Fr                18:59    6:07
14  Maura Mlecko, Jr              19:13    6:12
16  Alexa Sundgren, So         19:39    6:20
26  Mazzie Standish, Sr         20:07    6:29
45  Rachel Hockenberry, Jr    20:45    6:42
54  Erin McGoey, Fr               20:57    6:45
Both teams will travel to Hershey for the PIAA Championships next weekend.