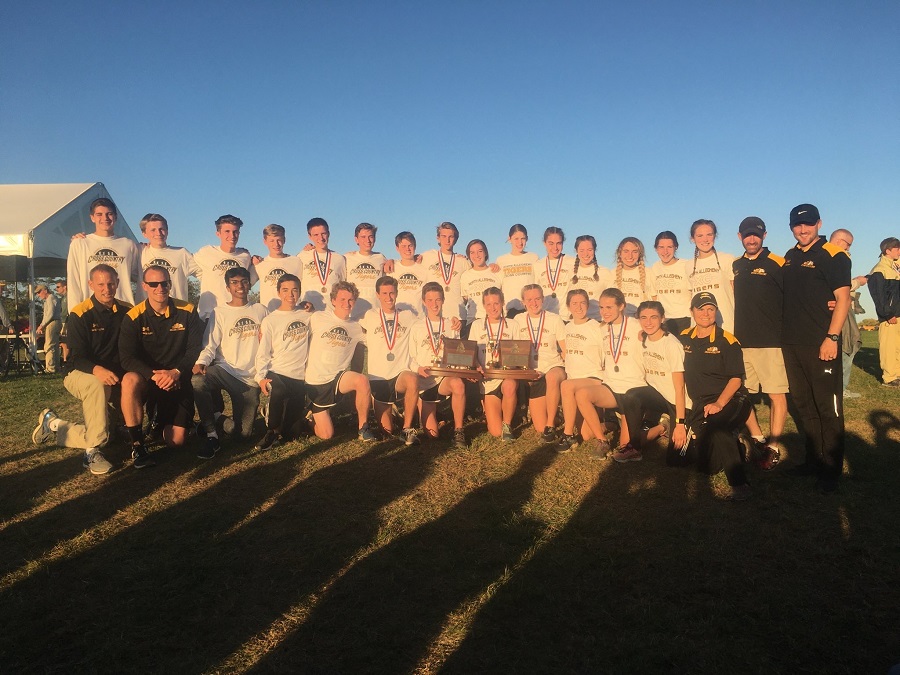 NA Boys, Girls Cross Country Teams Win WPIAL Titles
For the second straight season, the North Allegheny boys' and girls' cross country teams claimed a WPIAL championship at California University of Pennsylvania. The NA Girls won with a team score of 41, which was 48 points better than second-place Seneca Valley. The WPIAL championship is the second straight and ninth overall for the Lady Tigers.
The NA Boys posted a team score of 66 to take first place, edging out second-place Butler who finished with a score of 87. It's the 30th WPIAL championship for the NA Boys cross country program, the most of any school in WPIAL history.
The NA girls' team was dominant and placed all five scoring athletes in the top 18 of the race.  Senior Hannah Lindgren was outstanding, taking WPIAL runner-up with an impressive 18:59 in the moderately warm conditions.  Then a strong trio of Tigers snatched places sixth through eighth.  Junior Keeley Misutka had a phenomenal day, placing sixth overall.  Senior Caroline Daggett ran determined by moving up in the second half of the race to finish seventh overall in her last WPIAL race.  Lexi Sundgren ran super tough and was the fastest freshman in the race.  Sophomore Maura Mlecko was amazing with an 18th overall finish (fifth for NA).  Junior Mazzie Standish ran one of her best races of the season, taking 30th. Senior Jenna Mlecko was solid with a 42nd place finish, rounding out the top seven.  For full results for girls race, click here.
In the NA boys' race, Dan McGoey was is in beast mode taking second overall with a one of the fastest times on Cal U's WPIAL course.  Next man up was sophomore Scott Nalepa with a 12th place overall finish.  Not far behind was junior Andrew Kollitz and sophomore Graham Wolfe taking 14th and 15th, respectively.  Nalepa, Kollitz and Wolfe all ran smart races, moving up nicely in the second half of the race.  Fifth man for the Tigers was sophomore Jackson Hickel, finishing 23rd overall.  Junior Connor Foody and senior Stephen Nalepa rounded out the top seven for the champion Tigers.  For complete results, click here.
Both teams will travel to Hershey, PA next week for the PIAA State Championship.