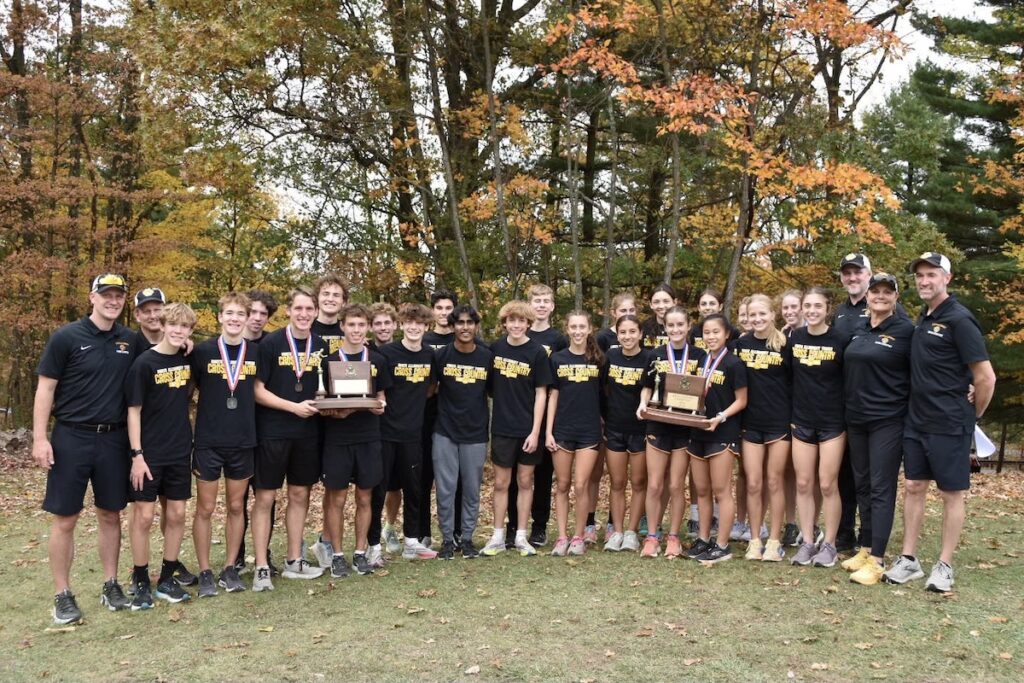 NA Boys, Girls Each Win 6th Consecutive WPIAL Crown
The North Allegheny girls' and and boys' cross country teams both capture WPIAL Class 3A Team Championships on Thursday at White Oak Park. For both programs it was their sixth consecutive District 7 title.
For the girls, it was the 17th WPIAL championship since the program's inception in 1974. The girls posted a low score of 62 points and easily outdistanced second-place Mt. Lebanon, who finished with 144 points. The Lady Tigers took a commanding lead in the first half mile and never looked back. The Tigers were incredible up front taking three of the top five spots in the entire race. Junior Robin Kucler had an outstanding race, dropping the hammer in the last half mile to grab silver (17:53). Senior Eva Kynaston helped set the pace early on and ran strong over the second half for another great finish in third (17:56). Senior Erin McGoey continued her great senior year campaign with a well executed race plan. She moved from 15th at the mile all the way up to to fiftth place (18:36) by the finish line. Junior Camille Swirsding was light outs with very strong last half mile, taking 15th place honors (19:18) and earning the last individual medal.  Senior Maia Getz came through in a big way to grab the all important fifth spot for the Lady Tigers in 37th overall (20:11).  Only three spots and four seconds back from Getz was junior Elizabeth Pizon, providing displacement value with a great race in 40th overall (20:15). Junior Kendall Lucas ran well to get 66th overall (21:13) and round out the varsity seven.
For the NA boys, it was the 34th WPIAL championship since the program's inception in 1960. The boys also had a phenomenal low score of 59 points, but this was heated contest between the Tigers and the Butler Golden Tornado from wire to wire (Butler scored 67 points).  Junior Jack Bertram led the Tigers, as usual, with a strong race, taking second-place honors (15:31). Senior Michael Gaunter had an outstanding  finish, moving from 10th to fifth (16:16) in the last mile. Senior James Behrend had a great race, placing eighth overall (16:22). Junior Anthony Miklos had a spectacular second half of the race, moving from 60th at the mile to 19th overall (16:50). Senior Connor Williams came through with a big race for the important fifth spot for NA, grabbing 24th overall (16:55). Sophomore sensation, Andrew Peigh, was only four seconds back with a great race in 29th place (16:59). Rounding out the varsity scorers was senior Alex Mitterer in 62nd (17:42).
Tigers will travel to Hershey, PA next weekend for the PIAA State Championships.