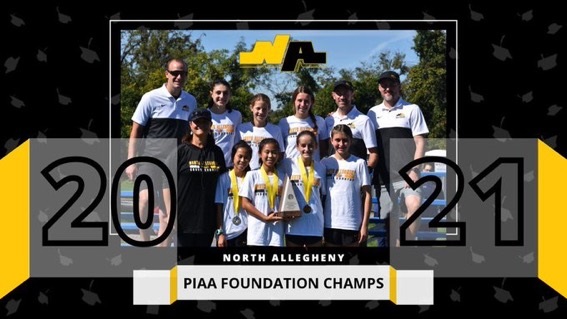 NA Claims PIAA Foundation Meet Title
The PA#1 ranked NAXC teams traveled to Hershey for the annual PIAA Foundation Meet (run on the state championship Parkview Course).
The NA Girls won the team championship (34 teams) with only 63 points defeating the runner up team by an incredible 90 points.  Four of the varsity girls made their debut on the Parkview Course and they were all fantastic. Leading the girls on their path to victory was none other than freshman, Wren Kucler, who had an outstanding race, finishing in second. Sophomore, Eva Kynaston went out with the lead pack and and held on for 4th place overall, showing tremendous mental toughness.  Freshman, Robin Kucler was third for the champs with a stellar performance (7th overall). Freshman, Sydney Kuder executed a great tactical race, running the first mile conservatively and passing competitors throughout the remaining 2+ miles (27th place finish). Freshman, Camille Swirsding ran like a veteran with another great performance, finishing right behind Kuder in 28th overall. Only four seconds and three places later, came senior Maura Mlecko with a solid race (31st). Senior, Rachel Hockenberry rounded out the scoring top 7 for NA.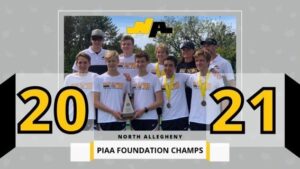 The NA Boys were every bit as dominate as the Lady Tigers, winning with only 69 points out of the 34 AAA teams (runner up was 75 points back). Like the girls' team, the boys top 3 all placed in the top 8 of the race. Freshman, Jack Bertram was fantastic on his Parkview course debut, leading the Tigers with a 5th place finish. Only a second behind Jack was senior, Scott Nalepa, running his best race of the season (6th).  Senior, Ryan Podnar was an absolute stud finishing only 5 seconds behind Scott in 8th place. Senior, Graham Wolfe, ran a smart race, placing 25th overall.  Not far behind Graham, was sophomore Michael Gauntner with another strong finish, placing 28th overall. Junior, Gregory Kossuth, had a nice race, placing 32nd. Finishing a split second behind Gregory was senior, Caleb Schall, with a great time on the hilly course. Schall rounded out the varsity Tiger scorers in 33rd place.
Complete results for all races can be found at: http://runhigh.com/2021RESULTS/R092521AA.html
The Tigers will face off against section opponents Seneca Valley and North Hills this Tuesday at Seneca Valley.