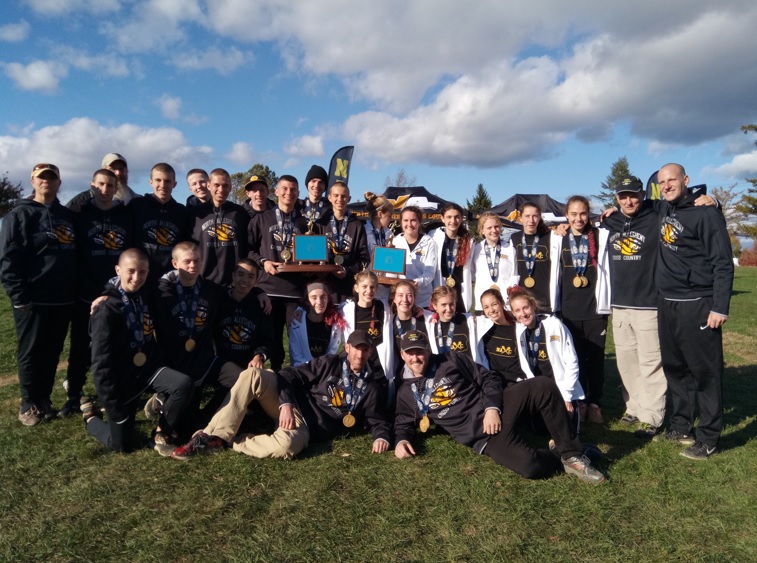 NA Cross Country Makes PIAA History, Wins Both Boys & Girls Titles
North Allegheny became the first school in PIAA history to win both the girls and boys cross country titles with a dominant performance on Saturday in Hershey, PA. The NA Boys won their 12th state championship with a team score of 90, besting second-place LaSalle College by 22 points. The Lady Tigers claimed their fourth PIAA crown with a team score of 65, which was 41 points better than second-place West Chester Henderson.
The day started with the girls' cross-country competition and the Lady Tigers were sparked by junior Hannah Lindgren's fourth place finish with a time of 19:15. Sophomore Keely Misutka took ninth place with a time of 19:35. Other contributors to the gold medal included freshman Rachel Hockenberry (12th), junior Caroline Daggett (17th), freshman Maura Mlecko (23rd), senior Ally Christy (32nd) and junior Jenna Mlecko (43rd). For a look at the entire Class AAA listing of results, click here.
The NA Boys were led by a spectacular performance from senior Zachary Kinne and junior Daniel McGoey who won silver and bronze individual medals, respectively. Kinned turned in a time of 16:07 and McGoey was close behind with a time of 16:09. Also contributing to the NA title run were senior Ethan James (24th), Stephen Nalepa (29th), sophomore Andrew Kollitz (32nd), senior Luke Turkovich (48th) and sophomore Connor Foody (82rd). For a look at the entire Class AAA boys results, click here.
Congratulations to head coach John Neff and the entire North Allegheny cross country team for a tremendous 2018 season.