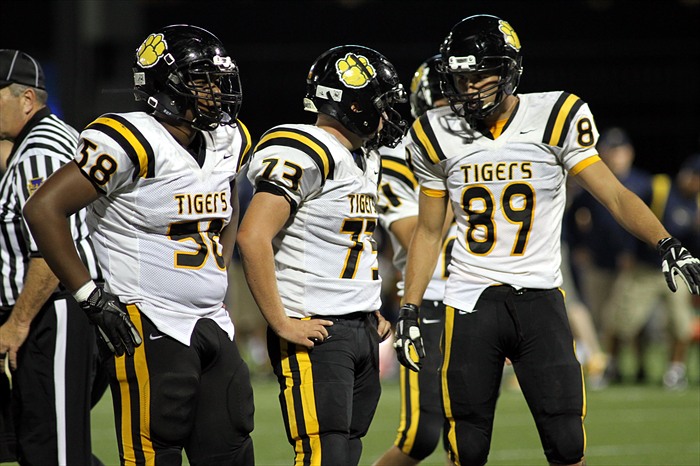 NA Digs In For Conference Battle At Butler Tonight
After disposing of the Shaler Titans in convincing fashion last week for a Northern Eight Conference win, 55-14, the North Allegheny Tigers (3-2) will face another conference foe with a visit to Butler to take on the Golden Tornado (2-3) tonight. The Tigers have won 10 straight against the Golden Tornado with the vast majority of those victories coming in lopsided affairs. Last season, NA defeated Butler on the road by a final of 58-3.
The winds of change have brought a new head coach to Butler this season, but also more victories and a new-found winning attitude. Head coach Rob Densmore has instilled a new mindset amongst his players by preaching fundamentals, defense, and run blocking. It's a simple approach but one that has seen Butler double its win total from a year ago and play competitive football even in its losses.
Densmore comes to Butler after spending the previous 15 seasons as the defensive coordinator at Pine-Richland. A defensive minded coach, Densmore has given the Golden Tornado a more aggressive identity with plenty of blitzes and pressure on the opponent's front line. Senior linebacker Jeremy Hanford leads the Tornado in tackles with 23, and lineman Eric Hindman has a team-best four sacks.
On offense, gone is the Wing T/Option offense of years past as Butler is now utilizing a base I-Formation. Junior running back Damien Pickett is the team's leading rusher with 468 yards and three touchdowns. In week two, the Baldwin Highlanders could not withstand Pickett's charge as the Butler tailback tallied 276 yards, which is believed to be a single-game program record. Aside from Pickett, the Golden Tornado have three other rushers with at least 100 yards or more in this ground-heavy offensive attack.
In a week four win against Shaler, 42-7, the Tornado did not attempt a pass, mainly because they didn't need to. North Allegheny's defense would love to win first and second down to force Butler into a position that don't want to be in, throwing the football.  The Tigers statistical leaders on defense are linebacker Layne Skundrich with 37 tackles and four sacks, and defensive back Riley Trueman with three interceptions.  Butler quarterback Jamison Smith has thrown five interceptions and only two touchdowns.
Offensively, North Allegheny is far from one dimensional but prefers to move the ball on the ground. Over the past two weeks, the one-two punch of Josh Bergman and Michael Pope has emerged into a knockout blow in back-to-back wins over Upper St. Clair and Shaler.  Bergman, who's been a varsity contributor for the last three years, is tied for the team's lead in rushing with 321 yards and four touchdowns.  The senior tailback torched Shaler last week for 132 rushing yards and two total scores.
The straight ahead style of Bergman is complimented nicely by the jitterbug moves and speed of Pope. The sophomore has averaged 11.7 yards per carry on 13 attempts, good for 152 yards and a touchdown. Joining Bergman with 321 rushing yards is quarterback Jeff Clemens who has achieved that total on 68 carries.  Clemens has also completed 40 of 86 passes for 536 yards with three touchdowns to just one interception.
With two teams who like to run the football, and a weather forecast that is projecting evening rain, winning the line of scrimmage in tonight's game will be paramount. This Northern Eight Conference tilt between North Allegheny and Butler will get underway at 7:30 tonight.  The pregame show on the North Allegheny Sports Network hits the air at 7:10, including a pregame interview with Tigers head coach Art Walker.  Randy Gore and Rick Meister will have the call from Butler High School.  To listen to the broadcast, click here!