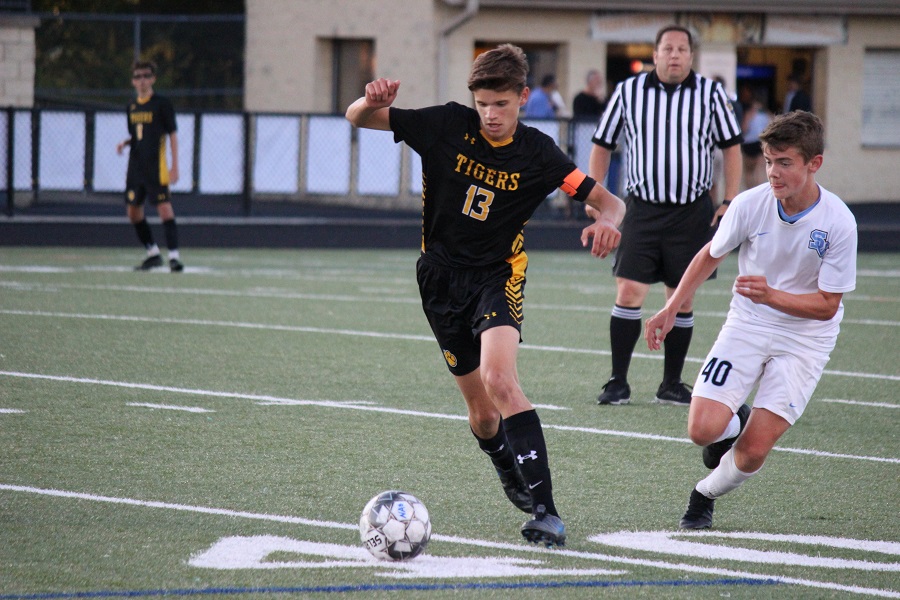 NA Falls to Defending WPIAL Champion Seneca Valley 3-2
by Jonathan Spina
Seneca Valley's Zach LaValle scored with 1:37 left in the game to defeat the Tigers 3-2 in a home section match on Thursday night.
The first real chance of the game came with 25:31 to go in the first half when Seneca Valley had a free kick from 37 yards out. The shot knuckled towards the net but was ultimately saved by Jonathan Partridge. North Allegheny then had a beautiful opportunity two minutes later when they got a corner kick. The pass was right on the money to Evan Anderson but a great save by Seneca Valley keeper Adam Davies kept the game scoreless. With 5:58 to go in the half, Seneca Valley was on the attack once again when they had two-on-one heading towards the net, the initial shot was saved by Partridge, but then caught out of the net, Samuel Giannetti came to the rescue and made the second save keeping the Raiders out of the net. The game headed into halftime 0-0.
In the second half the pace really started to pick up for both teams. Seneca Valley got it started early when Kyle Majeski scored three minutes into the second half, making it 1-0. Ten minutes later North Allegheny was able to respond when they got a corner kick and Jason Roman scored off a great feed from Bryce Burroughs to tie the score at 1-1. Two minutes after that Seneca Valley retook the lead on a goal by Nathan Eastgate for a 2-1 advantage. North Allegheny then used a little bit of luck to tie the game. Justin Mericle put a cross into the box with no Tiger players in the box but the ball deflected off of a Seneca Valley defender and into the goal, tying the game at 2-2 with 11:12 left. The Raiders, however, were able to pick up the game-winner with 1:37 left in the game on the marker by LaValle. North Allegheny was not able to get any offense going in the final 1:37 and lost 3-2.
Roman was the Wright Automotive Player of the Game with the lone goal. Partridge made five saves on eight shots on goal.
The Tigers fall to 2-1 overall and 1-1 in section play. They will be back in action again Saturday when they take on Penn-Trafford at Newman Stadium. That game will start at 6:30 pm.
Boys Soccer Summary vs. Seneca Valley, 9-5-19
| GAME SUMMARY | | | |
| --- | --- | --- | --- |
| SCORE BY HALVES | 1 | 2 | FINAL |
| Seneca Valley | 0 | 3 | 3 |
| North Allegheny | 0 | 2 | 2 |