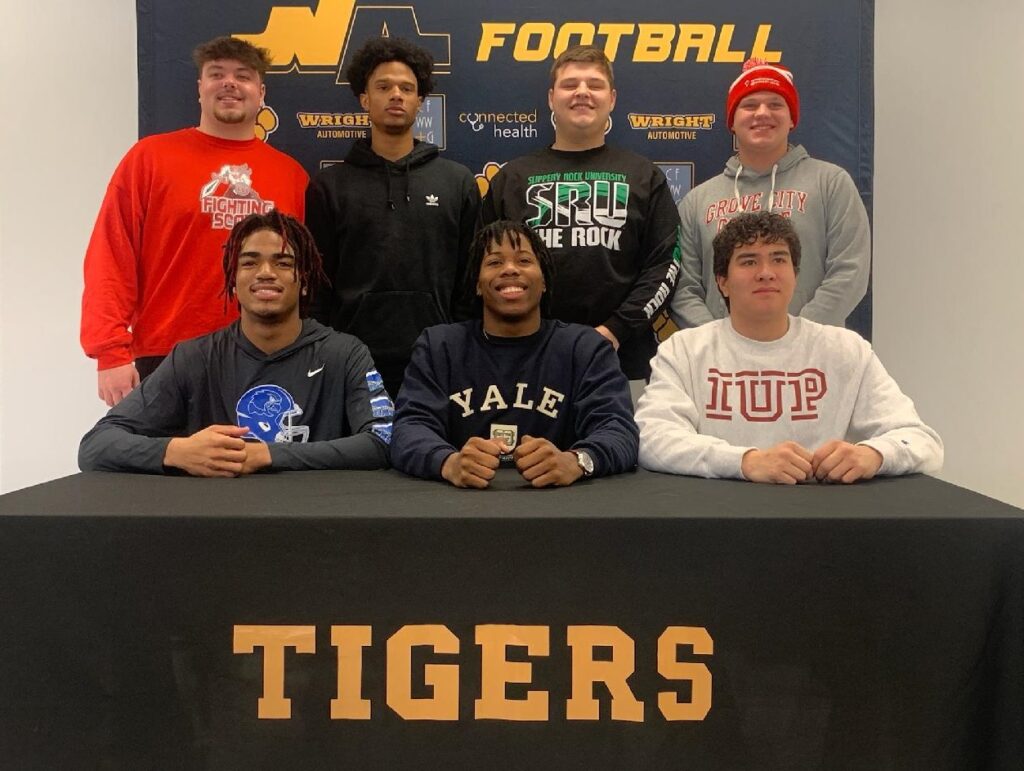 NA Football Players Make College Choices On National Signing Day
It was National Signing Day on Wednesday and the North Allegheny football team had several players ink their names to play college football. Seniors Nick Frisco (Slippery Rock), Bobby Hershey (Grove City), Kyrell Hutcherson (Edinboro), Josh Ruppert (Edinboro), Jacob Porter (Yale), Elijah Smith (IUP) and Dwayne Taylor (Notre Dame College) all signed their letters of intent to continue their football and academic career at the next level.
Frisco, Ruppert and Smith were all starters on an offensive line that plowed open holes for an offense that averaged 31 points per game, third best in Class 6A. Frisco was a first-team All-Big 56 Conference selection and Ruppert was an honorable mention pick.  Frisco was also a two-way starter for the Tigers, accounting for 11 tackles, one sack and had two crucial fumble recoveries against Seneca Valley in week 10.
Hershey was a reserve tight end and linebacker for the Tigers and will join a Grove City program next season that finished 8-3 overall and 6-3 in the Presidents' Athletic Conference last season. The Wolverines defeated Utica, 49-7, in the ECAC Scotty Whitelaw Bowl. It was the third ECAC Bowl win for Grove City in the last four years.
Hutcherson was a second-team all-conference selection this past fall. Despite missing two games due to injury, Hutcherson still amassed 23 tackles on the season and thieved two enemy passes. One of his interceptions was a tide-turning pick against Mentor in week two that helped NA rally from a 10-3 deficit for a 20-16 win.
Porter was one of the top pass rushers in all of Class 6A and finished the 2021 season with 52 tackles and 13.5 sacks. Porter's 13.5 sacks were the most by a North Allegheny player since Jeremy Gonzales posted 12 sacks during the WPIAL and PIAA championship season of 2012.
Taylor was a first-team all-conference wideout in 2021 and corralled 25 passes for 366 yards and four touchdowns. Taylor also paced the Tigers on defense with a team-leading 73 tackles and three interceptions, including a pick-six against Mentor in week two.
Congratulations and good luck to all of the college bound members of the North Allegheny football team.