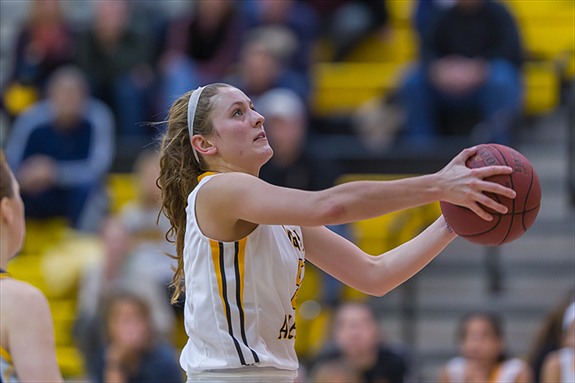 NA Girls' Basketball Bulldozes Butler, 56-42
With another strong shooting night from inside and out, the North Allegheny Lady Tigers sailed by the Butler Golden Tornado on Thursday, 56-42, in a Section 3-AAAA match-up. The Tigers jumped on Butler for a 28-13 halftime lead and put things into cruise control in the second half. North Allegheny connected on 54% shooting from the field and 58% from outside the arc, dropping in 7 of 12 three-point attempts.
Handling the Tornado in the paint, senior Danielle Wall and sophomore Taylor Lake scored 10 points apiece.  Lake corralled a team-high five rebounds as well. Beyond the perimeter, senior Taylor Brennan once again shined, hitting 3 of 6 on three-pointers on her way to a 13 point night.  Brennan added a game-high four steals.
For the Golden Tornado, Alyssa DiPippa and Julia Baxter netted a game-high 17 points each. However, the rest of the Butler roster scored a scant eight points collectively.  Baxter narrowly missed out on a double-double with nine rebounds.
North Allegheny's early season success ups the Tigers record to 5-1 overall and 3-0 in Section 3.  Butler falls to 3-2 overall and 1-1 in section play. The Lady Tigers host Norwin on Monday night at 6:00 pm in a non-section affair.