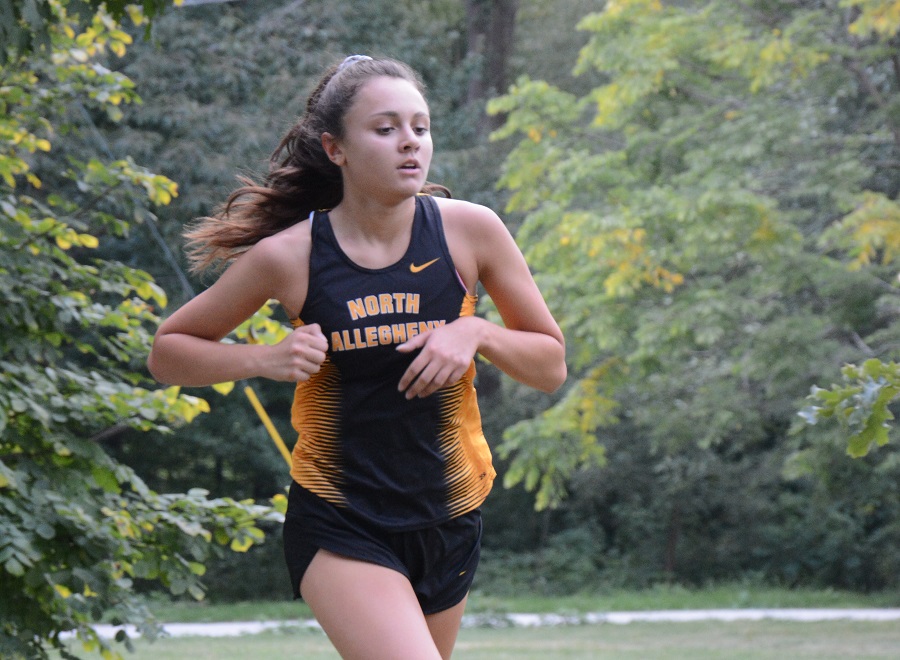 NA Girls Clinch Section 3 Title
NAXC hosted the Seneca Valley Raiders and the Hampton Talbots at the North Park Course. It was a great weather day for the meet and many NAXC runners ran life-time or season-best performances.
The girls clinched the WPIAL Section 3-AAA title with a dominant victory over Seneca Valley (21-36) and a perfect score over Hampton (15-50).  Leading the way was Clara Savchik with a solid run. She was followed closely by Hannah Lindgren who ran a very strong race. Coming in third through fifth for NA with outstanding races were Ally Christy, Caroline Daggett and Jenna Mlecko. Ally Meehan and Taylor Rechenmacher rounded out the top seven for the section champs.
The boys team beat Hampton (16-46), but fell short to the Seneca Valley Raiders (31-24). Dan McGoey led the way with a record shattering performance. He beat his own course by 43 seconds with a 15:05 on the three mile course.  Running an outstanding race was Cam Phillips who came in fourth overall. Not too far behind Phillips was Luke Turkovich (7th) and Stephen Nalepa (9th). Rounding out the scoring was Ethan James (11th).
The next competition for the North Allegheny cross country team is the Slippery Rock Invitational next Saturday.