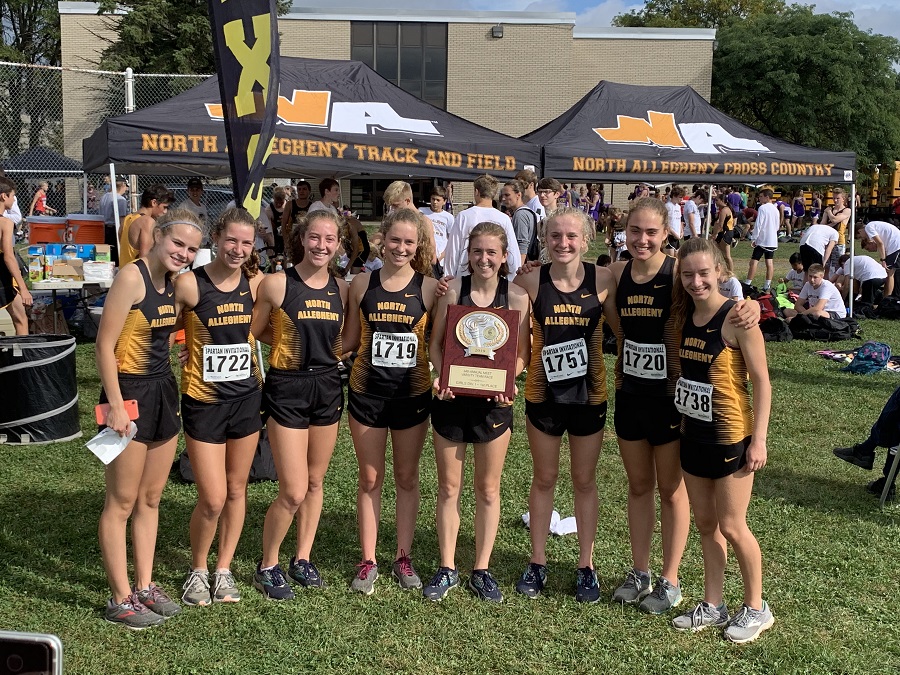 NA Girls Take 1st Place At Boardman Invitational
North Allegheny cross country teams traveled to Ohio for the Boardman Spartan Cross Country Invitational.  The Lady Tigers ran away with from the competition, taking first place out of the 35 large school teams who participated in the event. The NA boys placed fourth in what turned out to be a tight race for the top four teams. Only 31 points separated first through fourth place.
The NA girls team continued their unbeaten streak, winning the Spartan invitational with 124 total points and a 30-point margin victory over second.  Having a breakout race and pacing the Tigers was junior star Keeley Misutka (5th place overall finish).  Lexi Sundgren ran very strong, placing 14th overall. Twelve seconds behind Sundgren was Caroline Daggett (23rd overall).  The best runner for the Lady Tigers was Maura Mlecko with a fast 36th place finish.  Jenna Mlecko rounded out the point scorers with a fantastic race (46th). Emily Thompson (86th) and Kara Mihm (94th) battled hard to displace many other teams' top runners.  Complete varsity girls results can be found by clicking here.
On the boys' side, it was Dan McGoey pacing the Tigers with his strongest race of the season (5th place overall).  Drew Kollitz had a nice finishing kick to place second for NA (21st overall).  Graham Wolfe ran well with a 36th overall place finish.  Connor Foody was not far behind Graham, placing 42nd overall.  Kabilan Balasubramani (51st) had a great race, rounding out the point scorers for NA.  Ryan Podnar (55th) and Danny Robles (72nd) helped the team by displacing a lot of other teams point scorers. Complete boys varsity results can be found by clicking here.
North Allegheny will compete at the Chatham Eden Hall course this Tuesday to face off against Pine Richland and Hampton in a section meet.