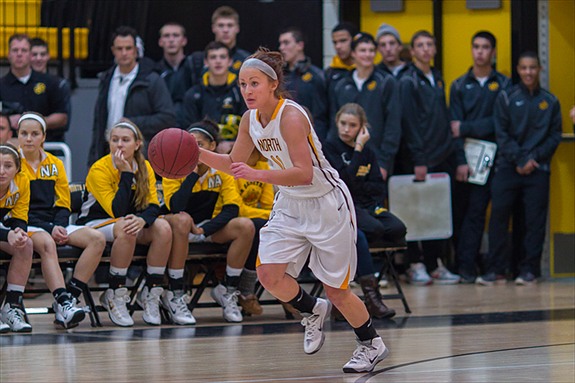 NA Girls' Take Tournament Title, Topple South Park
Thanks to a tremendous effort on the boards and 56 percent shooting from the field, the North Allegheny Lady Tigers grounded the South Park Eagles on Saturday afternoon, 64-48, in the title tilt at the Wright Automotive Holiday Tournament.  The Tigers held a 26-16 rebounding edge, limiting South Park to numerous one and done possessions.  South Park's standout forward Halie Torris was held in check, scoring nine points and just one bucket in the second half.
The Eagles opened the scoring in the game on a three-point connection by Allison McGrath, but North Allegheny responded with a 17-0 run to gain early command of the game.  Continuing her hot shooting from day one of the tournament, junior Devvin LaBarge hit 4 of 4 from beyond the arc and jump started the NA attack with a trio of treys in the first half. LaBarge was honored as the tournament MVP following the game.
With guard Abby Gonzales taking on two quick fouls in the first quarter, most of the point guard duties in the opening half were placed in the reliable hands of Taylor Brennan. NA's senior guard scored a team-high 18 points and directed the Tigers offense to perfection, committing no turnovers on the day.  Brennan was named the Wright Automotive Player of the Game by the North Allegheny Sports Network.
With an avalanche of points in the first quarter, NA held a 22-9 lead after one period and a 39-24 advantage at intermission.  Continuing to crash the glass and harassing South Park in its offensive sets, the Tigers rolled to a 64-48 victory.
After missing early minutes because of foul trouble, Gonzales impressively dished out nine assists and narrowly missed out on a double-double on the day, scoring nine points. Sophomore Taylor Lake had a strong game in the paint, scoring nine points and hauling in five rebounds. On the other side of the ledger, SP's McGrath provided determined and gritty play for the Eagles, pulling down eight boards and scoring a team-best 18 points, including three treys.
North Allegheny extends its winning streak to seven straight and improves to 8-1 on the season.  The reigning state champions in Class AAA, South Park drops to 6-3 overall. The Lady Tigers return to section play on Monday, January 6 against the Pine-Richland Rams. The game will be broadcast live via the internet on the North Allegheny Sports Network.
Wright Automotive Holiday All-Tournament Team
| Player | School | Class |
| --- | --- | --- |
| Maria Palarino | Penn-Trafford | Senior |
| Danielle Parker | Canon-McMillan | Junior |
| Halie Torris | South Park | Senior |
| Alysson McGrath | South Park | Sophomore |
| Taylor Brennan | North Allegheny | Senior |
| Devvin LaBarge* | North Allegheny | Junior |
| | | |
| *Tournament MVP | | |