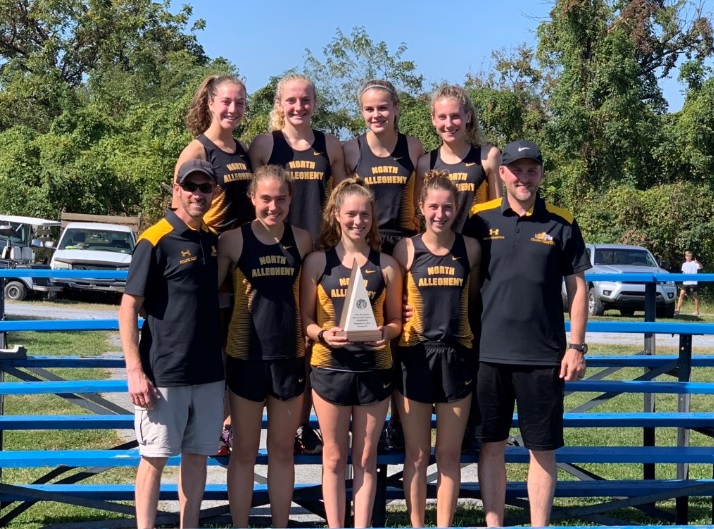 NA Girls Win PIAA Foundation Meet, Boys Take 2nd Place
The North Allegheny cross country teams traveled to Hershey for the annual PIAA Foundation Meet.  The Lady Tigers crushed the 47 teams in the large school race (gold) with a 60-point differential between them and the next best team.
Racing against some of the top schools in the state, the Lady Tigers were the only team with four runners in the top 25.  Hannah Lindgren had her best performance of the season with a second-place overall finish and a blazing 18:40 time on hilly 5k course.  Keeley Misutka had a very strong race, grabbing 11th place.  Freshman phenom, Lexi Sundgren, put together an incredible race with a 16th overall placing.  Maura Mlecko was next up for NA with a gutsy performance, placing 24th overall. Coming back from being sick earlier in the week, Caroline Daggett rounded out the five scorers with a 51st overall finish. Close behind, Jenna Mlecko ran tough to beat every teams' fifth place girl. Sophomore Kara Mihm was 15 seconds behind her, displacing many opponents.
The NA Boys ran in a strong pack for most of the race and finished with an incredible 19 second spread (1-5).  Drew Kollitz led the Tigers with a strong finish, placing 33rd overall.  Connor Foody (36th) and Stephen Nalepa (37th) ran tough and we're right behind Kollitz. Graham Wolfe (44th) and Ryan Podnar (56th) rounded out the top five, while senior Kubi Balasubramani (67th) helped displace many opponents.  The Tigers were 28 points behind the winning team, Lower Merion.
Complete results for all races can be found by clicking here.
The Tigers will face off against section opponents Seneca Valley and North Hills this Tuesday at the North Park course.