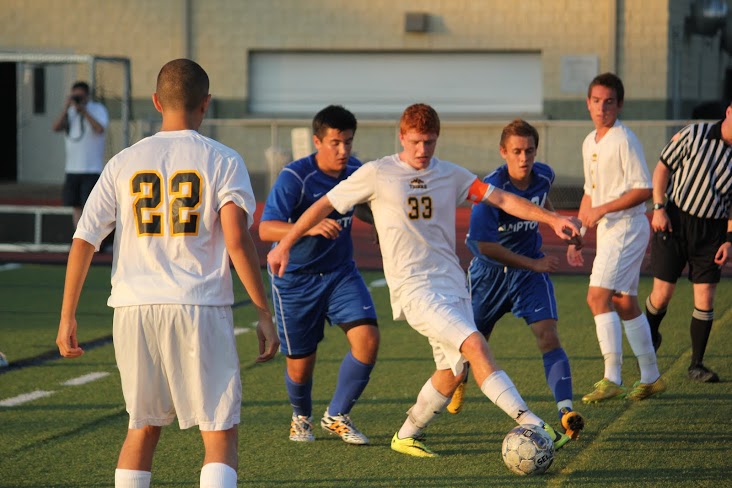 NA Holds Off Hampton For First Win Of The Season
by Dave Floyd
Since Hampton moved up a classification to Section 2-AAA in 2012, the North Allegheny boys soccer team has had their number. That trend continued Thursday evening at Newman Stadium as the Tigers built a two-goal advantage and then held off the Talbots, 2-1, for the Tigers' first victory of the 2014 season.
The win improved the Tigers' record to 1-2 overall and 1-1 in Section 2, while the loss dropped Hampton to 1-2-1, 0-1-1 in section play.
North Allegheny came out strong in the first half, controlling most of the play and peppering Hampton goalkeeper Matthew Easler with a multitude of shots. Then, with less than 14 minutes to play in the opening half, the Tigers broke through.
Senior forward Bobby Upton took a quality feed from classmate Yosef Ulomi inside the 18-yard box and calmly placed a shot into the right side of the net. That tally, Upton's first of the season, gave North Allegheny a 1-0 lead at halftime.
The Tigers did not wait long to add to their advantage in the second half. With less than four minutes played, they earned a free kick near the Hampton end line and just outside the 18-yard box. Senior captain Steve Binning played a ball in, and after the ball had rested right on the doorstep for a few moments, junior defender Nick Thornton buried it for a 2-0 North Allegheny lead.
For that ball and numerous other free kicks served up by Binning, along with strong play on both sides of the field, the senior captain was named Wright Automotive Player of the Game.
Hampton did respond quickly to Thornton's goal, as senior midfielder Luc Kaiser scored on a penalty kick less than 30 seconds later. The Tigers shut the door after that, though, and held on for the slim one-goal victory.
North Allegheny returns to action on Saturday at Newman Stadium to take on defending WPIAL champion Peters Township at 3:30 p.m. The Tigers will look to avenge a 3-0 loss in the first round of last year's playoffs. North Allegheny then returns to section play on Tuesday with a home game against Butler.