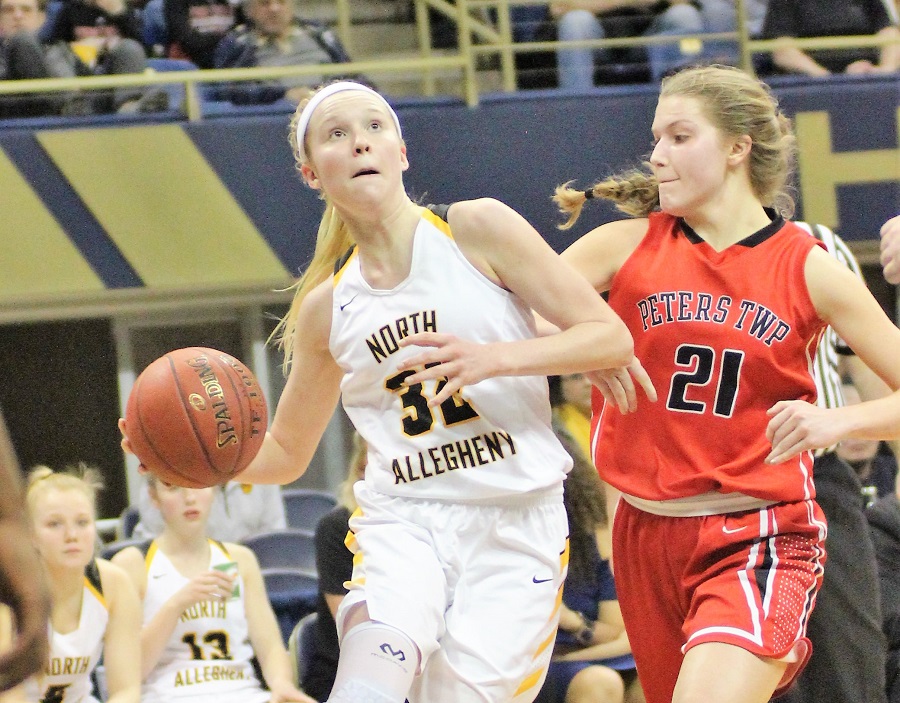 NA Hosts Annual Wright Automotive Tip-Off Tournament This Weekend
North Allegheny high school will host the annual Wright Automotive Tip-Off tournament beginning on Friday evening and continuing through Saturday afternoon. This year's tip-off classic will feature six of the top girls' basketball teams in the region.
Chartiers Valley vs. Mt. Lebanon – 5:00 p.m.
The opener of the tip-off tournament pits the Chartiers Valley Colts against the Mt. Lebanon Blue Devils. The Colts are the consensus No. 1 team in Class 5A following an 18-8 season in which they stampeded all the way to the WPIAL semifinals and PIAA playoffs. After racking up 552 coaching wins and six WPIAL titles with the CV boys' team, Tim McConnell will be in his first season coaching the Colts girls' basketball squad. His daughter, Megan (19 ppg), was a second-team all-state guard last season as a sophomore. Senior Mackenzie Wagner (17.2 ppg) is a Loyola, Maryland recruit and 6-2 senior center Gabby Legister returns after missing last year with a torn ACL. Legister is a Kennesaw State recruit.
Like Chartiers Valley, Mt. Lebanon is led by a storied head coach and is coming off a PIAA playoff appearance. The Blue Devils are ranked No. 5 in Class 6A by Trib Live and are coming off a 13-13 season. Despite a .500 record, Mt. Lebanon got hot at the right time and rattled off a late three-game winning streak that carried it to the WPIAL semifinals. Senior forward Jamey Napoleon is committed to Central Connecticut State and was a second-team all-section pick last season. The Blue Devils are guided by 16th-year head coach Dori Oldaker, who has won over 400 games and has directed both Blackhawk and Mt. Lebanon to multiple WPIAL and PIAA titles.
Norwin vs. Altoona – 6:30 p.m.
The team that defeated Mt. Lebanon in the state playoffs last year, the Altoona Mountain Lions, will joust with the fourth-ranked Norwin Knights in game two of the tournament. Altoona returns most of its core players from last year's playoff team, including senior Brigid Fox, who recently signed her letter of intent to play Division I basketball at the University of Detroit Mercy. Also returning is three-sport athlete Olivia Hudson and junior 3-point sharpshooter Caranda Perea. The Mountain Lions were the District 6 runners-up last season and went 21-5 before bowing out to North Allegheny in the PIAA second round.
Norwin is coming off a 12-10 season and an appearance in the WPIAL quarterfinals. Junior guards Olivia Gribble and Jayla Wehner, and senior guard Jessica Kolesar are poised for a big season. All three were Big 56 Conference all-section picks. Wehner received first-team laurels and head coach Brian Brozeski was the Section 2-6A Coach of the Year award recipient. Brozeski has guided the Knights to two WPIAL championships in 2015 and 2016 during his tenure.
North Allegheny vs. Penn Hills – 8:00 p.m.
The final game on the opening night sees the host North Allegheny Tigers take on the Penn Hills Indians. Whether it be in the first round or the championship, these teams will face each other for the fifth straight year at the tip-off tournament, with the Tigers winning all four previous meetings. Overall, North Allegheny has won 15 in a row in the head-to-head series with Penn Hills.
Last season, Penn Hills put together a 13-9 season, but were eliminated in the first round of the WPIAL playoffs by Mt. Lebanon, 31-30. This year, the Indians have dropped down to Class 5A where they are ranked No. 3. Penn Hills has a deep senior class that is highlighted by Division I recruits Adia Brisker (Niagara) and Tayonna Robertson (Longwood). Senior forward Diamond-Jay Whittington is back after missing last season with a torn ACL. Senior Ariana Dunson (10 ppg) also returns to the starting lineup.
The expectations are high for a North Allegheny team that went 28-1 last season and has won back-to-back WPIAL Class 6A titles. The Tigers, who have reached the PIAA's final four for the past three straight seasons, are the consensus No. 1 in Class 6A and are hoping to reach the state championship game for the second time in three years. NA will embark on this journey, led by Rachel Martindale (15 ppg). Martindale, an Akron recruit and first-team all-state selection, had her season cut short due to injury in the WPIAL championship game last year but is back for her senior campaign.  Martindale is surrounded by a strong supporting cast that includes senior guard Brynn Serbin and sophomore standout Lizzy Groetsch. The Tigers are directed by fourth-year head coach Spencer Stefko, who has won 268 games over his career at NA, Seton LaSalle and Chartiers Valley.
For a look at the entire Wright Automotive Tip-Off Tournament schedule, including Saturday's action, click here.