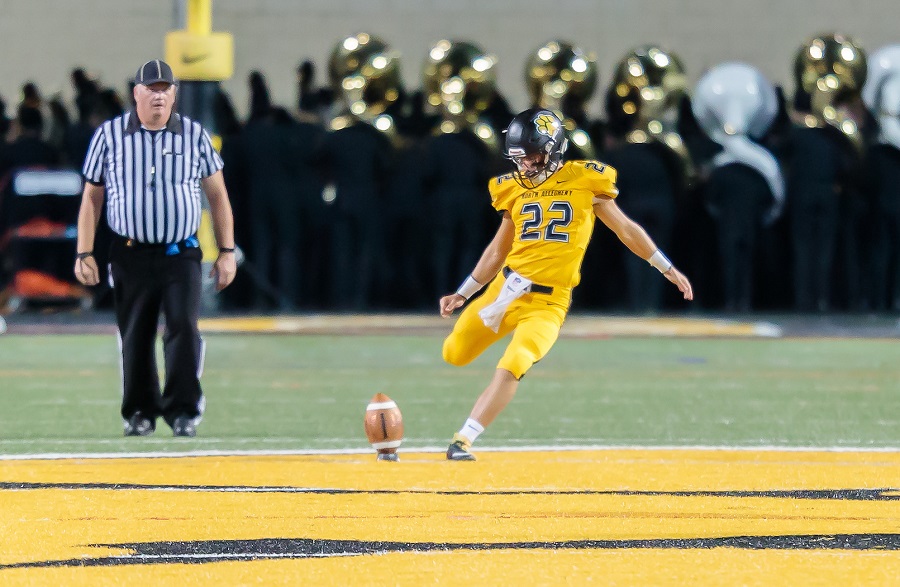 NA Hosts Conference Rival Seneca Valley In WPIAL Semifinals Tonight
Appearing in the WPIAL playoffs for the 15th consecutive season, the North Allegheny Tigers (10-0) begin their quest for a fifth WPIAL title with a Class 6A semifinal battle with conference rival Seneca Valley (8-3) tonight at Newman Stadium. After missing the playoffs last season, Seneca Valley is appearing in the WPIAL semifinals for the second time in the last three years. The Raiders football program has never won a WPIAL championship.
Winners of 10 in a row, the third-longest current streak in the WPIAL, the Tigers were recipients of a quarterfinal round bye last week. Meanwhile, fifth-seeded Seneca Valley rallied from a 14-0 deficit for a 15-14 quarterfinal round victory over Central Catholic last week. Running back Jacob Mineweaser scored the game-winning touchdown for the Raiders on a 12-yard rushing score with over 10 minutes remaining in the contest.
The most recent meeting between these two teams was on Sept. 28 at Newman Stadium which resulted in a 10-6 triumph for the Tigers. In that game, North Allegheny committed four turnovers but survived Seneca Valley with an opportunistic defense of its own. The NA defense permitted only 112 total yards, intercepted two passes and sacked SV quarterback Gabe Lawson three times. In the slugfest, yards came at a premium and junior wideout Luke Colella was the sparkplug. Colella personally outgained Seneca Valley with 149 yards of total offense (101 receiving, 48 rushing) and set up both of NA's scoring drives. Senior Joey Colella scored what proved to be the game-winning touchdown on a 1-yard QB keeper with 1:47 remaining in the second quarter. All of the scoring came in the first half for both teams.
The last time North Allegheny and Seneca Valley hooked up in the playoffs was in the 2016 WPIAL semifinals. The Raiders edged the Tigers by a 28-27 decision to reach the WPIAL championship for the first time in 30 years. Aside from the 2016 meeting, the Tigers have dominated the Raiders in the recent playoff history between the two schools, including a 47-17 drubbing of SV in the 2012 semifinals and a 35-10 blowout by the Tigers in the 2011 quarterfinals.
Kickoff for tonight's WPIAL Class 6A semifinal is slated for 7:30 p.m. at Newman Stadium. The game will be broadcast live via the internet on the North Allegheny Sports Network. The pregame show begins at 7:10 p.m. and will include an interview with Tigers head coach Art Walker. To listen to tonight's broadcast, click here.