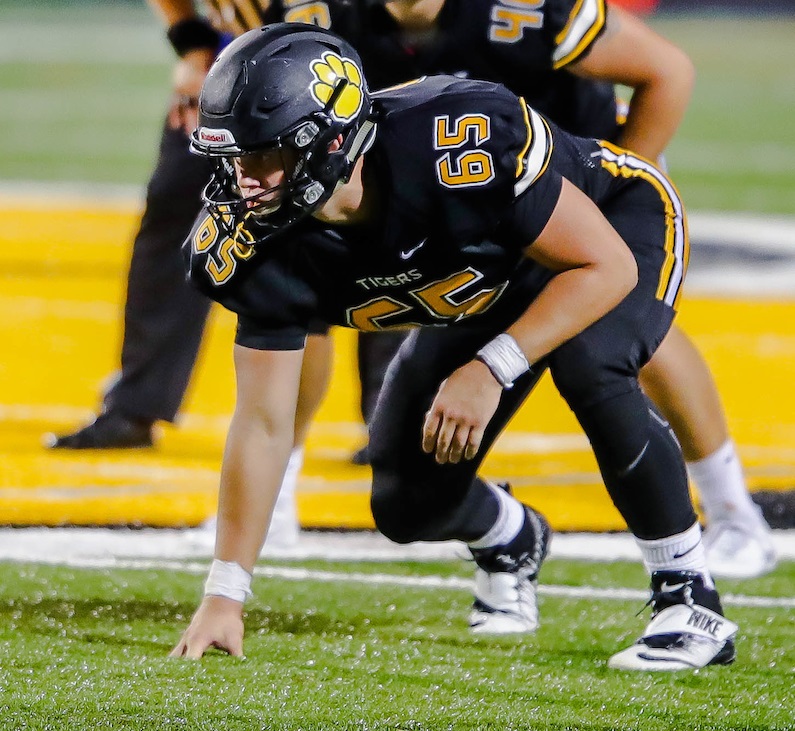 NA Manhandles Hempfield In 42-7 Win
The North Allegheny Tigers won their sixth game in a row on Friday night and hammered the Hempfield Spartans, 42-7, in a non-conference contest in Class 6-A. North Allegheny churned out 440 yards of total offense and limited high-scoring Hempfield to 191 total yards and one meaningless touchdown in the fourth quarter. The Tigers also controlled possession by converting on 6 of 7 third down conversion attempts on the night.
North Allegheny took the opening possession 58 yards on eight plays for a 7-0 lead, culminating the drive on a 29-yard touchdown pass by Ethan Maenza to Niko Mermigas with 7:48 on the first quarter clock. The Spartans marched to the NA 24-yard line on their opening possession but stalled and turned the ball over on downs. Little did Hempfield know that its first drive would be its best drive on a grim night for the home team.
The visiting Tigers methodically drove 76 yards in 12 plays and capped the drive on another touchdown pass by Maenza, this time to tight end Canyon Tuman for a 14-0 lead with 9:45 remaining in the second quarter. From that point, the rout was on as the Hempfield offense was bottled up for most of the night by the Tigers ferocious defense. Hempfield running back Jordan Kempka, the leading rusher in Class 6-A, totaled 40 yards on the Spartans first drive. He carried the ball for only 28 more yards  the rest of the night and finished with 68 yards rushing.
With Hempfield held at bay, North Allegheny piled up the points with a 16-yard touchdown run by fullback Ryan Langdon and a 64-yard touchdown run by Maenza to take a 28-0 lead into halftime. In the third quarter, Turner White scored on a 1-yard plunge and Will Baierl broke loose for a 25-yard touchdown run to give NA a 42-0 lead. Hempfield broke the shutout in the fourth quarter with a 41-yard touchdown pass by Justin Silwoski to Nick Diandreth to bring the final score to 42-7, Tigers.
Of the offensive yardage, 384 yards came on the ground with four different players scoring rushing touchdowns. Maenza threw only seven passes in the game and completed four of them for 56 yards and two touchdowns. Maenza also rushed for 98 yards and a score. With numerous different ball carriers successfully running behind a physical and effective offensive line, often times to the left side of the line, the North Allegheny Sports Network named left tackle Josh Lugg the Wright Automotive Player of the Game.
North Allegheny sits at 7-2 overall following the non-conference win, while Hempfield slips to 4-5 on the season. The Tigers will visit Pine-Richland for a huge matchup in the regular season finale next Friday at 7:00 p.m.