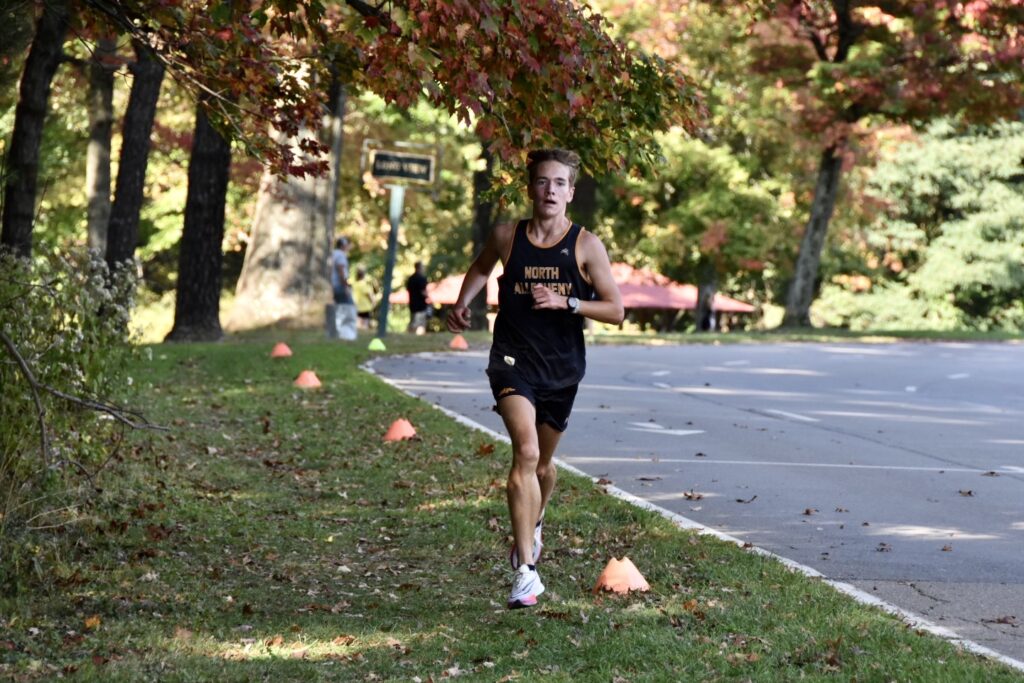 NA Secures Section Championship, Undefeated Regular Season
by Cross Country Contributor
The North Allegheny cross country team hosted Butler and Shaler to finish out the dual meet season for 2023.  NA was victorious on all fronts, solidifying the section title and undefeated dual meet season.  The weather was scorching hot for an October race (mid 80s), but that didn't stop the Tigers from running some very fast times on the three-mile course.
In the girls' race, junior Robin Kucler led the way with an outstanding time in 18:34.  Senior Erin McGoey was lights out in second place.  Senior Eva Kynaston was strong in third.  Junior Camille Swirsding was strong in fifth overall.  Junior Elizabeth Pizon had a great race, taking fifth for NA and sixth overall.  Senior Maia Getz had a great race in seventh place and freshmen Lily Ries was eighth to secure a dominant win for the Lady Tigers. The NA girls' prevailed over Butler, 17-46, and defeated Shaler, 15-50.
The boys' race was very close between Butler and NA, but the Tigers prevailed, 27-30.  NA beat Shaler with a perfect score (15-50).  The winner of the boys' race was Butler's Drew Griffith.  Griffith is one of the top-ranked runners in the country and set a new course record on the North Park course, with a blazing 15:14 (previous record was 15:30).  Junior Jack Bertram took second with a great time.  After a Butler runner took third, it was seniors James Behrend and Michael Gauntner who ran well to grab fourth and fifth place.  Junior Anthony Miklos came through to take seventh overall.  Junior Tyler Davis was excellent once again, placing 9th overall.  Senior Connor Williams and junior Greg Abel made the victory possible by taking the next two spots.
Both NA teams finish a perfect 7-0 in the section. The Tigers will gave some time off before the Tri-State TSTCA Meet on Oct. 19.