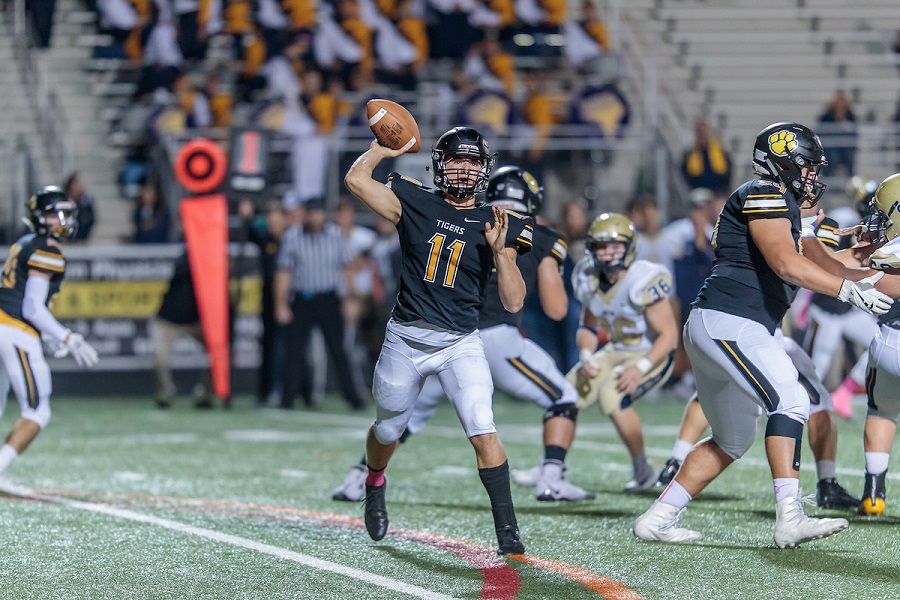 NA Sinks Seneca Valley, 40-7
The North Allegheny Tigers spoiled homecoming for the Seneca Valley Raiders at NexTier Stadium with a 40-7 blowout on Friday. The victory leaves North Allegheny as the only remaining undefeated team in Class 6A with a 6-0 overall record and 5-0 mark in the Quad County Conference.
Seneca Valley started with the football first and went three-and-out on their opening possession. Following the Raiders' punt, North Allegheny took advantage of a short field and traversed 46 yards on eight plays for the game's first scoring drive. Senior running back Percise Colon culminated the possession with an 11-yard touchdown run to give NA a 7-0 lead with 7:11 to go in the first quarter.
From there, the rout was on as Seneca Valley accomplished very little against the North Allegheny defense with only 135 total yards.
With the Raiders offense held in check, the Tigers continued to add on to their lead with a 45-yard touchdown gallop by senior quarterback Ben Petschke with 3:38 remaining in the opening stanza. On the last play of the first quarter, Petschke tossed a 53-yard touchdown pass to senior Luke Colella for a 21-0 advantage.
Junior Brandon Persad booted a 27-yard field goal with 7:53 on the second quarter clock to improve the score to 24-0, Tigers. Petschke delivered one more scoring strike before halftime, heaving a 28-yard touchdown pass to junior Khalil Dinkins for a 31-0 lead with 54 seconds remaining in the second quarter.
Petschke finished the night with 71 rushing yards and a touchdown to go along with 7 of 11 passing for 147 yards and two aerial scores. For his efforts, Petschke was named the Wright Automotive Player of the Game.
With the game at hand, North Allegheny opened the second half with a 9-play scoring drive that was capped by a Persad 28-yard field goal for a 34-0 lead.
Seneca Valley broke the shutout on a busted coverage 45-yard touchdown pass by Gabe Lawson to Seth Biac with 1:31 left in the third quarter, bringing the score to 34-7, North Allegheny.
The Tigers capped the scoring on the evening with a 10-yard touchdown run by Dominic O'Barto in the fourth quarter to close out a 40-7 victory over the rival Raiders.
Along with Petschke, other leaders on offense included Colon with 75 yards rushing on 10 carries. Colella paced the team in receptions with four catches for 94 yards and a touchdown.
The Tigers defense limited SV's Ethan West to 42 yards on the night. NA's leader in tackles was senior Amosis Porter with four, including two for a loss.
Seneca Valley falls to 2-4 overall and 2-3 in conference play. North Allegheny will visit winless Butler next Friday at 7:30 p.m.
Football Summary vs. Seneca Valley, 9-27-19
| GAME SUMMARY | | | | | |
| --- | --- | --- | --- | --- | --- |
| SCORE BY QUARTERS | 1 | 2 | 3 | 4 | FINAL |
| North Allegheny | 21 | 10 | 3 | 6 | 40 |
| Seneca Valley | 0 | 0 | 7 | 0 | 7 |