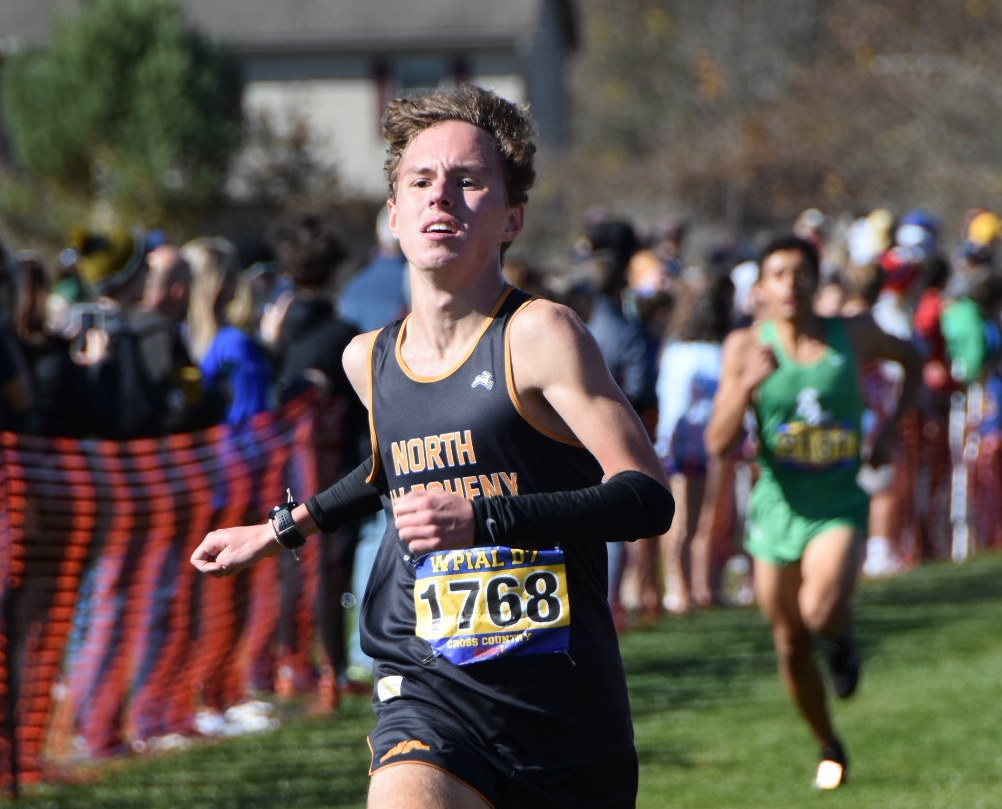 NA Sweeps North Hills, Seneca Valley, With Record Setting Day
by Cross Country Contributor
The North Allegheny cross country team raced against North Hills and Seneca Valley at North Park on Tuesday.  It was a nice cool day for a cross country meet and the Tigers continued their undefeated streak with both teams going 2-0 against their section rivals.  Seniors Erin McGoey and James Behrend took first place and set the course record with their performances.
The NA Boys beat North Hills 18-45 and Seneca Valley 22-37. Behrend led the tigers with a course record time of 16:57. Senior Michael Gauntner was next up in third place. Junior Tyler Davis had a fantastic race taking sixth overall.  Second seconds back from Davis was a strong race from fellow junior Anthony Miklos in seventh place. Senior Connor Williams confirmed the victory for the Tigers with an eighth place finish. Sophomore Andrew Peigh and junior Sebastian Klimchak had a nice race, rounding out the top seven.
The NA Girls beat North Hills 17-43 and Seneca Valley 22-37.  McGoey took the victory while also setting the course record with a time of 20:03.  Freshman phenom Lily Ries grabbed third place with a good race.  Junior Elizabeth Pizon had a strong race, finishing fourth overall.  Senior Maia Getz was excellent, taking sixth. Sophomore Tess Pagnotto was great in fifth for the Tigers and 10th overall.  Sophomore Mackenzie Winning and junior Kendall Lucas had solid performances to round out the Lady Tigers' scoring seven.
Next action for the Tigers is next Tuesday where North Allegheny will host Butler and Shaler on NA's home course at North Park.