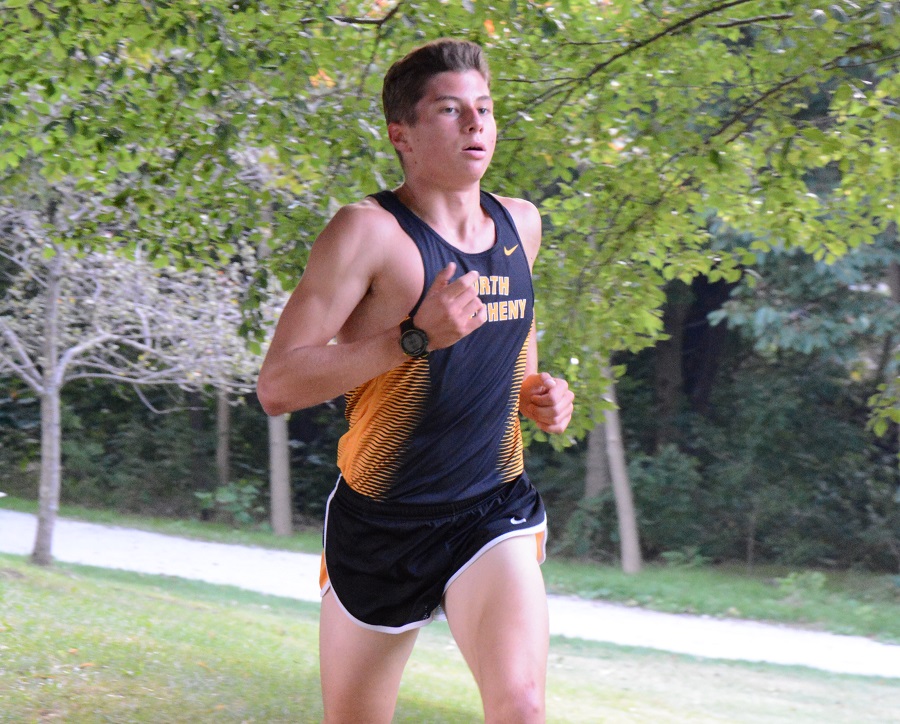 NA Takes 4th At Red, White & Blue Invitational
The North Allegheny girls and boys competed at the Red White and Blue Invitational in Schenley Park. Both teams ran hard and claimed fourth place  finishes in the AAA race (out of 31 teams).
The girls were led by an outstanding second place finish by senior Clara Savchik. Hannah Lindgren (sophomore) had another great race and was seventh. Lindgren was followed by Jenna Mlecko (sophomore), Ally Christy (junior), and Keeley Misutka (freshman). Freshmen Stefanie Cwalina and Taylor Rechenmacher had nice races to round out the top seven tigers. Each varsity runner ran a season best time or a lifetime personal record.
The boys were paced by frontrunner and special young talent, Dan McGoey (sophomore).  Running a strong race for NA was Luke Turkovich (junior).  Seniors T. J. Robinson and Cam Phillips crossed the tape next for the Tigers. They were closely followed by underclassmen Stephen Nalepa (sophomore), Ethan James (junior), and Andrew Kollitz (freshman).
Complete results from the meet can be found: http://results.tfmeetpro.com/Big_River_Race_Management/2017_Red_White_Blue_XC_Classic/#event2
NAXC travels to Knoch on Tuesday for the first section meet of the season against rivals Butler and Knoch.