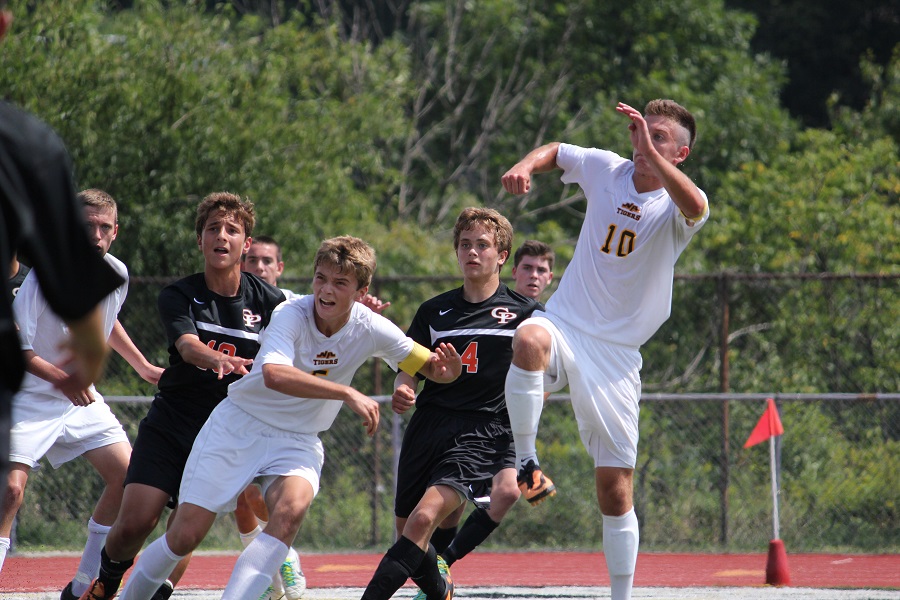 NA Takes Down North Hills
By Paul Dickerson
The North Allegheny Tigers played a spirited contest against the North Hills Indians on Saturday afternoon. A slow steady rain persisted throughout the match, making it slippery for both teams on the turf at Martorelli Stadium.
North Allegheny dominated the action throughout most of the game, playing about 80% of the game in the North Hills end of the field. Throughout the first half, Sam Conti had multiple crosses from the left side of the field, with Kevin Dougherty and Peter Tobias having opportunities to score. Steve Binnig also had multiple opportunities, hitting the crossbar on a direct kick and just missing on a header following a corner kick.
North Allegheny finally opened the scoring with 14:50 left in the half with passes from Alex Dorazio and Michael Peters leading to a score by Duncan Riding. After multiple scoring chances by NA, Peter Tobias put away a goal at the 4:33 left mark of the first half, putting away a rebound off of a shot by Sam Conti.
North Hills scored at the 3:09 left mark in the first half on a goal by #19 Joel Zewe that many NA defenders said that a hand ball should have been called on the play. The handball was not called, and the score stood at 2-1 NA at the half.
The second half opened up with North Allegheny having multiple scoring chances once again. At the 30:17 left mark, Sean Dickerson put in a header off of a Tobias corner kick to make the score 3-1.
Sam Conti continued to make crosses throughout the second half, creating scoring chances for Alex Gill and others. Alex Dorazio also had a nice shot that went just over the crossbar.
The defense of Andy Mahler, Nick Thornton, Steve Binnig, and Zach Nimmo held firm throughout the game, denying the Indians any chance to get any offensive momentum during the game.
The Tigers next game is Thursday, September 26th against Pine Richland.