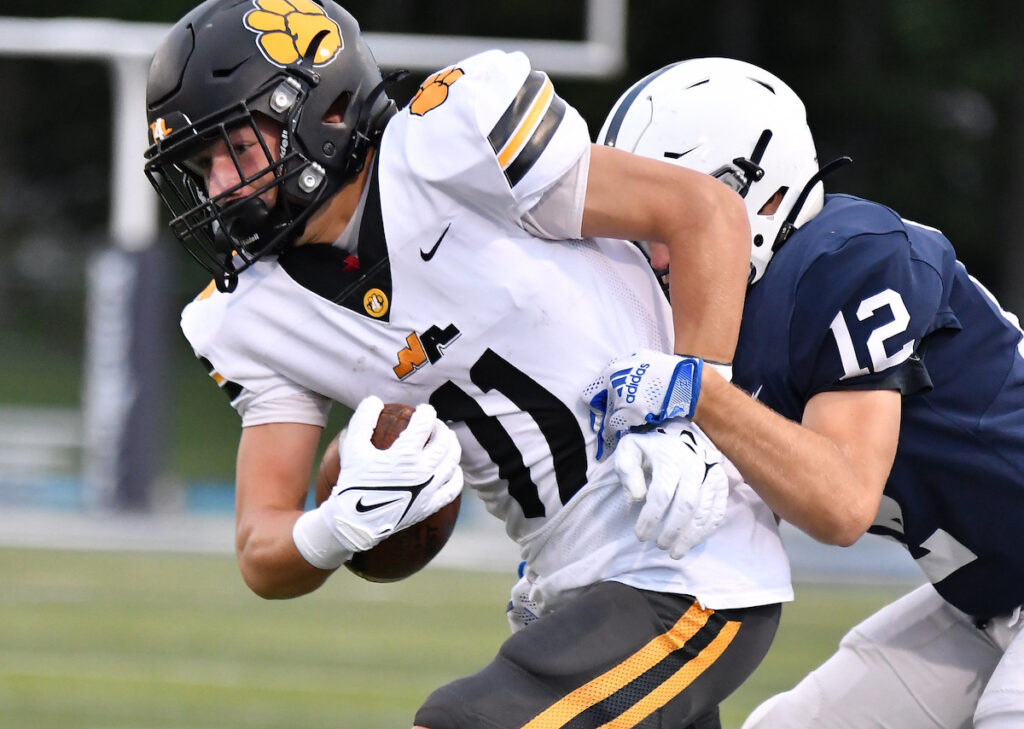 NA Takes On Baldwin In Non-Conference Matchup Tonight
The North Allegheny Tigers (3-0) will play their second consecutive road game tonight with a visit to Baldwin (1-2) to take on the host Fighting Highlanders in a non-conference contest.
The reigning WPIAL Class 6A champions are coming off an impressive 43-24 win at McDowell, a perennial power in the largest classification out of District 10. Senior running back Tyree Alualu rushed for a career-high 154 yards and three rushing touchdowns. Senior wideout Evan Lyon also reached the end zone three times, twice on receiving scores and another on a pivotal 95-yard kickoff return in the third quarter and that swung the momentum decidedly toward the Tigers. Senior quarterback Logan Kushner completed 7-of-9 passes for 117 yards and two scores, while adding another 39 rushing yards on 11 carries. Defensively, junior linebacker Liam Flaherty tallied a team-high 14 tackles and accounted for a first quarter safety. Junior defensive back James Donaldson posted double figures in tackles with 12 stops on the night. Three times McDowell drove inside the NA 20-yard line but came away with only three points out of those opportunities in the red zone. Senior defensive end Daniel Sellers made a leaping interception that ended one drive at the end of the first half, and he sacked McDowell quarterback Blayze Myers to thwart another in the second half. Junior defensive back Colman Craft notched his first career interception with a pick in the fourth quarter.
Baldwin, meanwhile, is off to a 1-2 start this season and dropped a 42-34 decision last week to Upper St. Clair to begin conference play in the Allegheny Six Conference. Prior to their loss to USC, the Fighting Highlanders shutout Brashear 56-0 in Week Zero but was handled by Class 4A powerhouse Thomas Jefferson in a week one loss, 49-3.
The Fighting Highlanders went 1-9 last season and have qualified for the WPIAL playoffs only twice in the last decade. Baldwin hasn't had a winning season since going 6-4 in 2003 and has not won a playoff game since 1991. Looking to inject new life into the program is first-year head coach Dana Brown Jr. Brown is an Assistant Athletic Director at McKeesport High School and was an all-state and all-conference defensive lineman during his playing days at McKeesport. He also started at defensive tackle for four years at Kent State.
Key returnees this season for Baldwin include senior tailback and linebacker Andrew Sharp. Sharp was a first-team all-conference running back in the Allegheny Six last season, accounting for 794 yards and nine touchdowns. In Week Zero, he rushed for over 200 yards and four touchdowns against Brashear. Defensively, Sharp was also a second-team all-conference pick at linebacker a season ago. The leading tackler for the Fighting Highlanders last season, and so far this year, is senior Keith Mincin. A hard-nosed linebacker and wrestler at Baldwin, Mincin totaled 62 tackles last season and has made 26 stops so far this year, to go along with two sacks and one interception in 2023. Offensively, Mincin was the team's leading receiver last season at tight end with 22 receptions for 303 yards. The Tigers will need to account for both Sharp and Mincin if they hope to leave Route 51 with a victory tonight.
Last season, North Allegheny defeated Baldwin at Newman Stadium, 53-7. Kushner accounted for four touchdowns in the win, two rushing and two passing, and receiver Khiryn Boyd totaled 120 yards with once receiving score and an interception. The NA defense tallied seven sacks, including three by defensive end Aidan Buggey. NA's last visit to Baldwin in 2021 resulted in a 61-14 victory. Prior to that, the Tigers and Fighting Highlanders had not met since the opening round of the 1998 WPIAL playoffs, a game NA won 40-0 en route to a WPIAL title game appearance at Three Rivers Stadium.
Kickoff for tonight's game is set for 7:00 p.m. The game will be broadcast live by the North Allegheny Sports Network with the pregame show getting underway at 6:40 p.m. To listen to tonight's broadcast, click here.