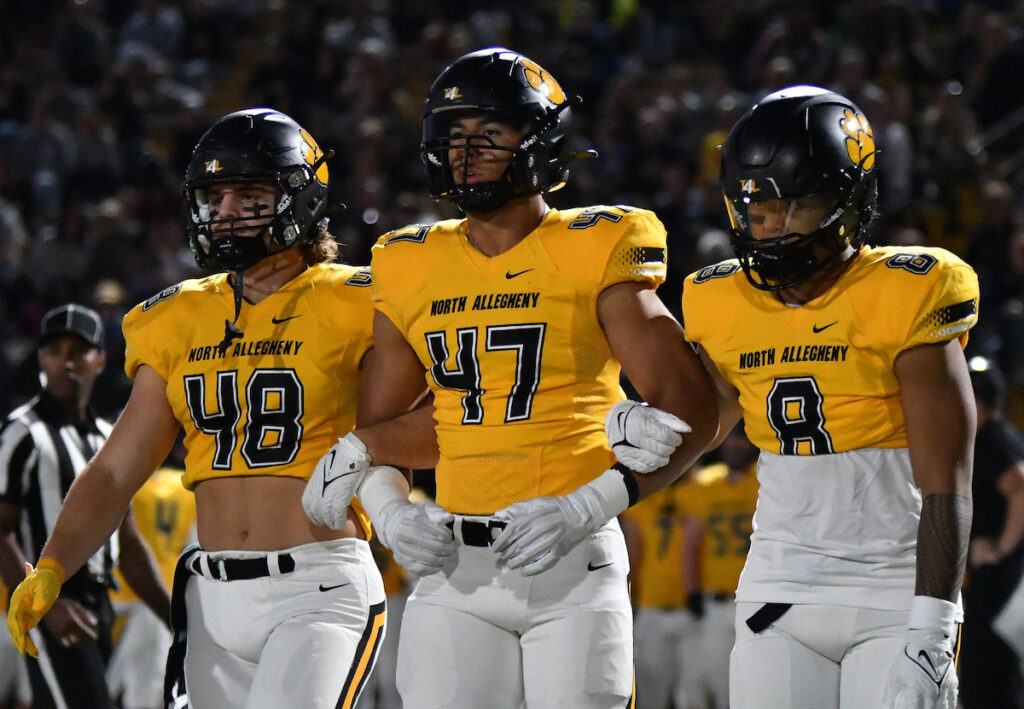 NA To Tangle With Norwin On Senior Night
In their final home game of the regular season, the North Allegheny Tigers (6-1) will host the Norwin Knights (2-5) for a non-conference game and Senior Night at Newman Stadium.
While tonight will be the final home regular season game for NA, it certainly won't be the last home game overall of 2023 thanks to last week's 43-7 win at Mt. Lebanon. By beating the Blue Devils, the Tigers secured the No. 2 spot in Class 6A and will host a WPIAL semifinal next month.
In the win at Mt. Lebanon, North Allegheny stormed out of the gates thanks to a 63-yard touchdown run by Tyree Alualu on the first play from scrimmage and the rout was on. Alualu caught a touchdown pass later in the game, one of three scoring strikes from senior quarterback Logan Kushner, who completed 6-of-7 passes for 118 yards. Senior Khiryn Boyd was Kushner's favorite target, hauling in three passes for 52 yards and two touchdowns. Boyd added a 35-yard punt return for a touchdown as well.
For the second consecutive week, North Allegheny will face a team that is led by a new head coach. Norwin's new head man is Mike Brown, who turned Hempfield into a winner last season with a 6-4 overall mark in 2022. As he did at Hempfield, Brown has brought an up-tempo style of offense to Norwin that is facilitated by sophomore quarterback Tristyn Tavares, who is the second-leading passer in the WPIAL with nearly 1,700 passing yards and 15 touchdown passes and only four interceptions. Junior wideout Luke Denny is the leading receiver with 523 yards and six touchdown passes, while Miami of Ohio commit Jackson Pons has 462 yards receiving and six touchdowns. Last season, Pons was named first-team All-Big East Conference twice in Class 5A as a receiver and as a defensive back. Pons is widely considered to be one of the top defensive backs in the WPIAL.
Norwin has vastly improved on offense this season compared to last year, averaging 23 points per game. However, the Knights defense has been gashed on the ground and permitting 31 points per game. On offense, North Allegheny averages 44 points per game and allows just 14 points per contest, which is best in Class 6A.
Following a 2-2 start to the season, Norwin has lost three in a row entering tonight's game. The Knights suffered a 37-29 conference loss to Franklin Regional last week.
This will be the sixth consecutive year that these teams have met in the regular season with NA winning all five of the prior meetings. Last year, North Allegheny traveled to Westmoreland County and came away with a 38-13 win. Starting at quarterback that night, Evan Lyon, passed for 51 yards and a touchdown, along with 18 rushing yards. Alualu rushed for 61 yards and two touchdowns on 13 carries. Boyd had three carries and rushed for 96 yards, including an 80-yard touchdown run.
Back in 2015, North Allegheny and Norwin also faced off in a WPIAL playoff game back in the days of four classifications. In the WPIAL Class 4A first round contest, the Tigers prevailed at Newman Stadium, 56-17. The Tigers gained 423 total yards in the game with 405 coming on the ground. Six different players scored rushing touchdowns against Norwin, including a surprise starter at running back, Ijhad Bonner. An all-conference linebacker at NA, Bonner capitalized on the first five carries of his varsity career for 93 yards and two touchdowns. He later played Ivy League football at Cornell University.
Kickoff for tonight's game between North Allegheny and Norwin is slated for 7:30 p.m. at Newman Stadium. As always, the game will be broadcast live by the North Allegheny Sports Network with the pregame show getting underway at 7:10 p.m. To listen to tonight's game, click here.