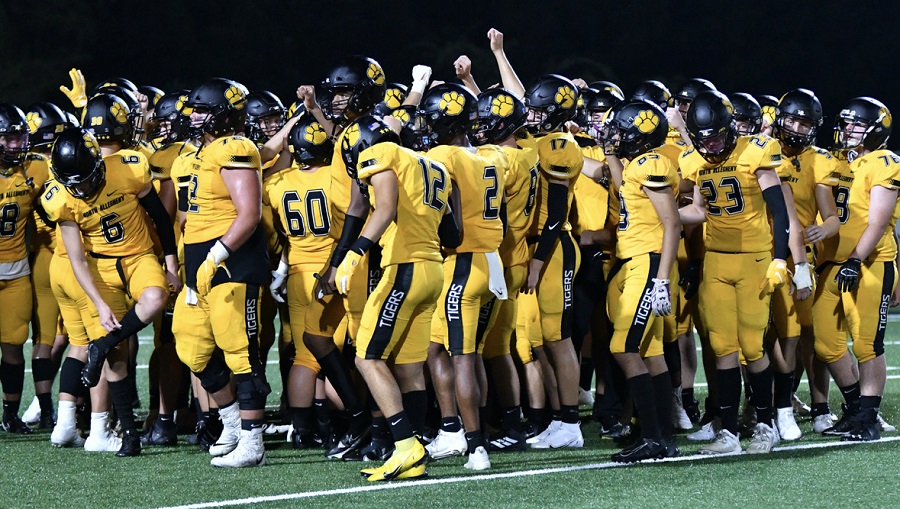 NA To Tangle With Ohio Powerhouse Pickerington Central
The North Allegheny Tigers (1-0) travel out of state tonight to face the Pickerington Central Tigers (2-0) near Columbus, Ohio. North Allegheny is coming off a 47-14 triumph against Allderdice in Week Zero, a victory that was sparked by the defense and special teams. Linebacker Tyree Alualu intercepted a pass and recovered a fumble, defensive back Kyrell Hutcherson hauled in an interception, lineman Luke Rumpler recovered a fumble and senior Connor Casten tallied a blocked punt to set up the offense. Quarterbacks Tanner Potts and Logan Kushner split time and each threw one TD pass and ran for a score in the rout of the Dragons.
North Allegheny will have a much stiffer test tonight, locking horns with one of the top programs in Ohio. Pickerington Central is a Division I program, playing in the highest class in the state, and was the D-I runner-up last season finishing with an 11-1 record. Pickerington won state crowns in 2017 and 2019 and is vying for another this season.
To start 2021, Pickerington boasts victories over two storied Ohio programs with wins over Massillon (26-7) and Elder (28-10). Massillon was the D-II runner-up a season ago and Elder was a state finalist in 2019, losing to Pickerington in the title tilt.
Also nicknamed the Tigers, Pickerington has several Division I collegiate recruits, including junior defensive back Alex "Sonny" Styles. Styles is the son of former Farrell High School standout and NFL player, Lorenzo Styles Sr., who won a Super Bowl with the St. Louis Rams in 2000. The younger Styles is the sixth-ranked player in the Class of 2023 according to Rivals.com. His older brother, Lorenzo Styles Jr., is a freshman wide receiver at Notre Dame.
Pickerington boasts a big and burly offensive line that is anchored by 6-4, 310-pound left tackle and Rutgers commit, Kobe Asamoah. The defensive line features senior C.J. Doggette (University of Cincinnati), Tyler Gillison (University of Cincinnati), Dakari Frazier (Ball State) and Kobi Gorman (D-I recruit). With immense size on both sides of the line, Pickerington typically looks to wear down opponents with its physicality and potent running game, led by senior tailback Olando Kamara with 286 yards and two touchdowns in two games this season.
Tonight's game is slated to kickoff at 7:00 p.m. from Columbus, Ohio. The contest will be broadcast live via the internet by the North Allegheny Sports, with the pregame show set for 6:40 p.m. Randy Gore and Jonathan Spina have the call. To listen to tonight's game, click here.