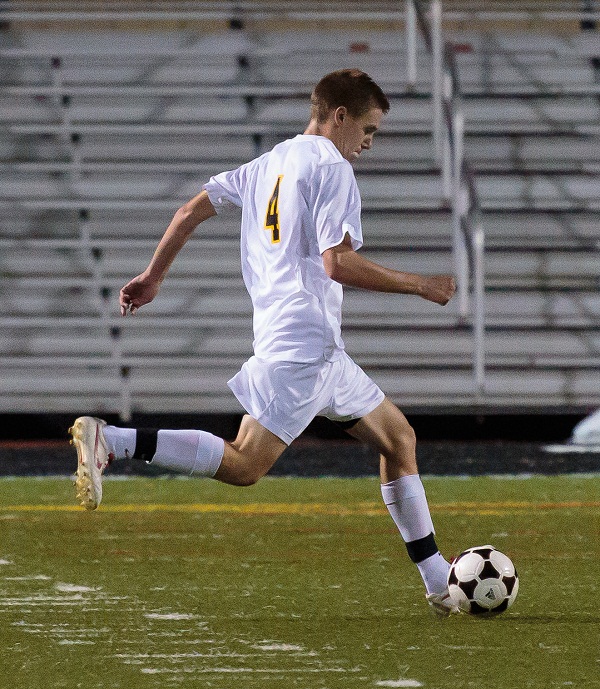 NA Tops Shaler, 4-0
Submitted by Brian Jewell
The NA boy's soccer team opened their section play Tuesday with a home match against Shaler. The action for NA started early with a shot on goal by senior Eric Cunningham in the 3rd minute on a strong pass from senior Duncan Riding.  Shalers' keeper Josh Bens was then minutes later forced to make a stop on a good 14 yard strike by senior midfielder Peter Tobias. This was directly followed by a hard shot  by Andrew Earle off of a cross from the left wing . Another shot in the 9th minute by Tobias just sailed over the crossbar.
Shaler had a pretty difficult time mounting an attack, with much of their right-sided attack shut down by the strong defense and tackling of defenders Nick Thornton and Steve Binnig.
NA capitalized in the 15th minute after a good cross caused a rebound. The ball was passed central 18 yards out with Tobias striking a hard shot moving left to right for a 1-0 Tigers lead.
Shortly after entering the game sophomore Michael Peters next pushed the Shaler defense with a hard shot on goal leading to a rebound opportunity for NA finally handled by Shaler's keeper.  This was followed seconds later by a driven 30 yard effort from senior Sean Dickerson, sailing just high. After a slight push by Shaler, NA struck again with the forward duo of Peters and Bobby Upton teaming up in the 32nd minute.  Peters hit a very nice floating cross-far post for a nice finish on the ground by Upton for a 2-0 advantage.
The game became a bit "chippy" at that point with yellow cards given to  Shalers' #23 and #5 along with NA's Steve Binnig and Sean Dickerson
Junior midfielder Sam Conti entered the game shortly after.  He received a driven cross from senior Nick Jewell and struck a nice half volley just wide of goal, a nice display of talent.
The second half began with a nice overlapping run and a hard shot in the 41st minute by senior Andy Earle.  Pressure by Shaler leading to a direct kick followed by a corner kick, which were handled nicely with  a pair of strong  defensive headers by Dickerson.
In the 51st minute a nice long through ball to Jewell on the wing allowed him to beat his defender for a long cross to the far post. Riding was waiting there for a nice header into the back of the net for a goal to bring the score to 3-0, Tigers.         
The action was mostly NA driven over the next 15 minutes with a nice dribbling run out of the back by Binnig leading to a pass to Alex Gill and a nice cross. Kevin Dougherty also provided quality runs down the right wing, beating his defender on numerous occasions earning crosses and corner kicks.
Alex Dorazio also got in the mix with a very skilled dribble and run out of the defensive third of the field in the 62nd minute leading to a cross and a shot by Tobias just over goal.  Dorazio repeated his nice run one minute later with a cross to Gill, yielding a shot just off goal
Sophomore Chip Dougherty entered the game giving quality minutes along with   senior defender Derrick Schwartz.
In the 70th minute Jewell attacked 1v1 from the left wing.  He was able to beat his defenders and took a hard shot from 17 yards that found the back of the net to improve the NA lead to 4-0.
Junior midfielder Raphael Bergerman also saw minutes and contributed to offensive and defensive efforts, helping to maintain the shut out for the NA tigers with his efforts.