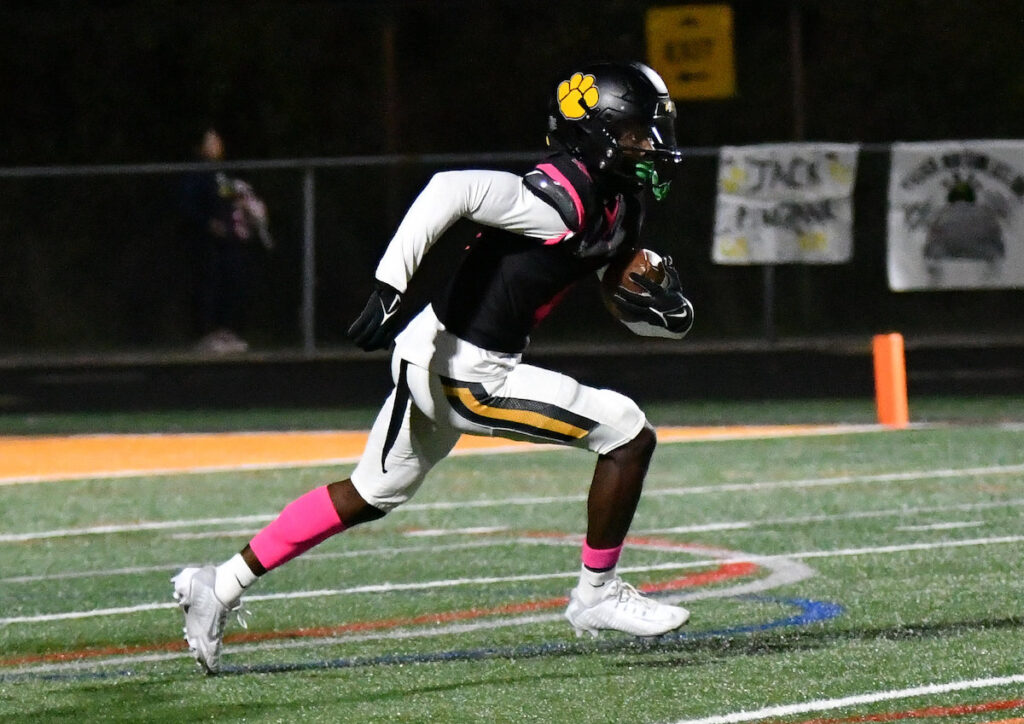 NA Travels To Penn-Trafford For Non-Conference Contest
The North Allegheny Tigers (7-1) will look to extend their current three-game winning streak on the road tonight in a non-conference matchup with the Penn-Trafford Warriors (4-4). In a rare visit to Harrison City, tonight marks the first time the Tigers will visit the Warriors for a regular season game in the Art Walker era of North Allegheny football.
Last week, North Allegheny earned a 53-25 win on Senior Night at Newman Stadium against another Westmoreland County team, the Norwin Knights. The Tigers raced to a 44-6 lead in the second quarter and cruised to the win in the second half. On a night of big plays, senior Khiryn Boyd started the game with an 89-yard kickoff return for a touchdown on the opening kickoff and the rout was on. Boyd also reeled in two receptions for 68 yards and scored one rushing touchdown. Quarterback Logan Kushner completed 3 of 7 passes for 131 yards and two touchdowns, including a 63-yard scoring strike to tight end Daniel Sellers. Senior running back Tyree Alualu scored on a 54-yard run, junior running back Liam Flaherty rushed into the end zone from 11 yards out and senior Evan Lyon recovered an offensive fumble for a touchdown as well. Senior kicker Peter Notaro connected on a 32-yard field goal to cap off the win.
Penn-Trafford, meanwhile, is 4-4 on the season and coming off an important conference win last week at Plum, 21-6. Despite the .500 overall record, Penn-Trafford is 3-1 in the Big East Conference and tied with Franklin Regional, who the Warriors will play next week in the regular season finale for sole possession of second place in the standings.
Typically a physical and well-disciplined team under 14th-year head coach John Ruane, the Warriors are a physical team that runs behind a big and burly offensive line. Headlining the Warriors strength in the trenches is Army commit, Zach Tomasovich, who stands at 6-5, 310 pounds. Penn-Trafford boasts three more returning starters on the front line, including all-conference selections Matthew Sarnowski and Vito Scarcelli.
Junior quarterback Jonny Lovre operates behind that mammoth O-Line and has passed for 924 yards and six touchdowns. While the Warriors are a capable passing team, they hang their hat on the running game which is led by junior tailback Tasso Whipple. Whipple has already surpassed the 1,000-yard mark and has rushed for 1,143 yards and nine touchdowns. He ran for a single-game school-record 300 yards against Hempfield earlier this season. Making this running game a two-headed monster is freshman Ben Grabowski, who has rushed for 599 yards and nine touchdowns.
On defense, Penn-Trafford allows 20 points per game and is led by first-team all-conference defensive back Carmen Metcalfe. Whipple and Dom Smith are Big 56 honorable mention selections at linebacker from a season ago.
Last season, North Allegheny and Penn-Trafford played each other for the first time in eight years with the Tigers coming out on top 20-3 at Newman Stadium. With NA leading 6-3 at intermission, Boyd returned the opening kickoff of the second half for a 98-yard touchdown and later added an interception and touchdown catch in the third quarter to put the game away.
Prior to last season, the last time NA and PT met was in the WPIAL Class 4A quarterfinals in 2014. In 2014, second-seeded Penn-Trafford rallied from a 10-point fourth-quarter deficit to beat the seventh-seeded Tigers, 35-31, in a playoff classic. PT quarterback Brett Laffoon (Grove City) led the comeback with 280 yards passing and five touchdowns, connecting with Timmy Vecchio (Robert Morris) for 197 yards and three ariel scores. The Tigers were paced by running back Josh Bergman with 62 yards and two touchdowns, and Ethan Maenza added a 55-yard touchdown run on a reverse. Maenza would later go on to become the Class 6A Player of the Year in 2016 for the Tigers and had a terrific collegiate career at Dartmouth.
Kickoff for tonight's game between North Allegheny and Penn-Trafford is set for 7:30 p.m. in Harrison City. The game will be broadcast live by the North Allegheny Sports Network with the pregame show slated for 7:10 p.m. To listen to tonight's game, click here.